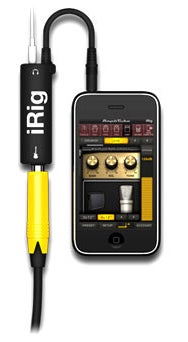 Your local guitar shop is apparently next on the iPhone's hit list. IK Multimedia has announced AmpliTube iRig, a complete hardware and software setup for rocking out with your guitar or bass and an iPhone.
The first part of iRig is a small hardware adapter that lets you plug your guitar into your iPhone, iPod touch, or iPad. It also has a one-eight-inch jack for plugging in headphones or running out to an amp or powered speakers.
Once you get your guitar and device set up, the AmpliTube for iPhone software becomes the real headliner. This app combines customizable stombox effects and amplifiers for making your guitar or bass sound like just about whatever you want. It comes in three editions, too: Free, LE, and Full. AmpliTube's Free and LE versions come with different sets of effects and amps, and musicians can use in-app purchases to add more effects packages. If you want to go all-out, the Full version includes all effects and amps.
The iRig adapter is available for pre-order for $40 and includes the Free version of the app. AmpliTube LE will cost $3, and AmpliTube Full will set you back $20 when they arrive in the App Store.