Sonic the Hedgehog is a veritable video game luminary – a franchise player whose games have sold more than 70 million copies and have appeared on nearly every platform known to man. Remarkably, he's done it all by the ripe old age of 18. So what will he do next? Well, personally, I hope he's planning on attending college, because he won't be spending much time on your iPhone.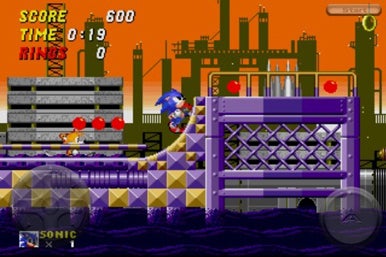 Sonic was already well on the way to becoming Sega's flagship character when Sonic the Hedgehog 2 hit stores in 1992, introducing the brash hedgehog's now famous sidekick, "Tails." The sequel expanded on the huge success of its predecessor and quickly became a fan favorite. Now Sega has brought its classic second-generation platform game to the iPhone—for a $6 roll down memory lane.
Yet, as fond as many are of the 16-bit Sonic games, this blast into the past is likely to be a little disappointing. Granted, it will never be as bad as the ill-fated Sonic TV series, Sonic Underground, but it's not a roaring success either. The premise is the same; Sonic is once again on a mission to rescue the furry creatures of the world and to foil the evil schemes of Dr. Eggman (a.k.a. Dr. Robotnik). He employs his new spin dash, courses through loops, gathers rings, all while motoring through 11 stages filled with 19 zones – and persistent showdowns with the red-nosed Eggman.
Sonic 2 for the iPhone and iPod Touch is an improvement on the original, which suffered from finicky controls and frequent frame rate snags. The new release thankfully features faster game play, 3-D bonus stages, the same classic graphics and music that made the 16-bit original the best-selling Sonic game of all time.
However, unlike Sega's video game version, the iPhone's Sonic 2 does not offer a two-player versus mode. Instead, Tails just tags along for the whole game like a goofy shadow, eventually becoming distracting, if not annoying. The game does allay these concerns a bit as you can choose to play with Sonic or Tails, but it's clear by the exclusion of two-player that this edition is a pretty straightforward port by Sega. It doesn't seem as if much thought was given to how the game might be customized for the iPhone.
While a faithful Sonic port will always be playable for nostalgic reasons, it seems like Sega missed some opportunities to improve upon the original — by elaborating on the emerald zones, offering a cooperative two-player option in which friends can play with Sonic and Tails in tandem (though hopefully this will be updated soon), adding interactive multiplayer with scoreboards, or incorporating new levels—to name a few.
Unfortunately, though the controls are far more responsive and serviceable than its predecessor, the d-pad remains imperfect. It is easy to push the wrong part of screen, frustrating jumps, landings, and sprints. While these issues may not have much of an effect in the early stages, it does when the action heats up later on, visibly jeopardizing your ability to navigate those devious platforms.
The graphic emulation and frame rate, too, are a bit glitchy, which is especially noticeable during dashes through zones like Chemical Plant 2 (which is now nearly impossible thanks to frame rate anomalies and hapless controls). As game speed picks up, the frame rate has a tendency to slow, followed by the music, whereupon you might find yourself helplessly watching as the rings you've collected explode in every which direction at the hands of some unseen robotic enemy. Again, the problems are not as irritating as they were in the original iPhone Sonic, but consider yourself warned.
That all being said, Sonic 2 continues to boast inimitable graphics and music and retains the same action-packed, classic game play experience it's always had. For newcomers to the Sonic franchise and casual gamers alike, Sonic 2 is worth checking out. If, on the other hand, you're a fan and veteran of the Sonic franchise, add this game to your play list for old time's sake but be wary: Sonic hasn't aged well.
[Rip Empson is a contributor to Macworld and has a frightening level of knowledge of Saturday morning cartoon shows.]