Super Shock Football HD for iPad is awesome, nostalgic fun. The $4 game from developer Chillingo aims to recreate the experience of those vibrating, electric football board games, and it's wildly successful at recreating the manic, unpredictable fun those games offered.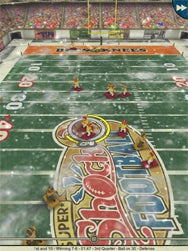 For the woefully uninitiated: Electric football games use magnets and vibration to shimmy your players across the playing field. You can position them before the snap, but once the ball's in play you're mostly at the whim of gravity and fate.
Super Shock Football HD emulates all the good parts of the game, with added bonuses of exceptional graphics, killer sound, and a nice sense of humor. You can play as one of 10 delightfully-named teams, like the Beesknees, the Hazmat Heroes, or the Hail Marys.
Before each snap, you can choose from a handful of plays, or position your players manually. You can control where they line up, and how they're angled. After the snap, the players rumble and slide all over the field. On offense, you can pass (by dragging a line from the quarterback to your intended receiver), or lateral the ball to keep things moving, but since you can't control where your players are running, it's no surprise when your star receiver snags the ball and immediately starts charging in the wrong direction. You can lateral to nearby players facing the right way, or try to "nudge" the ball carrier the right way.
Super Shock Football HD offers an impressive two-player mode; you and and your opponent sit on opposite ends of the iPad and hit the turf against each other. The CPU's also a solid opponent, with three difficulty settings.
This isn't Madden. And honestly, if Macworld hadn't asked me to review Super Shock Football HD, I likely wouldn't have bothered with it, given the overall lack of strategy in the game. I'm thrilled I got assigned this review, though, since what the game lacks in analytical football strategy it more than makes up for with silly football fun.
[Lex Friedman is a frequent contributor to Macworld.]