Fieldrunners enjoyed great reviews and tremendous success for the iPhone, and now Subatomic Studios hopes to continue that success with Fieldrunners for iPad.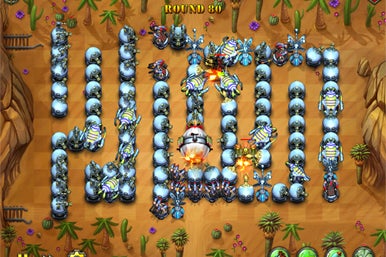 Fieldrunners for iPad is very much the same game available on iPhone with one major improvement: the graphics and detail-level take advantage of the iPad's larger screen and better resolution. For "tower defense" games, these improvements makes a huge difference. The battlefield comes alive as you build and upgrade your towers to defend against waves of attacking robotic enemy forces. With each defeated enemy, you earn additional cash to purchase more towers or upgrade the ones you have. You survive to play another round if you limit the number of enemies that penetrate your defenses below a threshold number. There are a total of eight different towers at your disposal throughout the game, and five different maps with varying entrances, exits, and obstacles. Two unlockable game modes and three levels of difficulty add to the replay value.
The intricate animations and exquisite detail of the combatants are now fully on display with this iPad version. The larger screen also permits easier placement of towers and allows you to manage them with minimal zooming in and out. While gameplay is identical to the iPhone version, playing on iPad is a much more enjoyable experience—you can now play comfortably at arm's length and still easily control the action.
That said, for the premium you'll pay for the iPhone version, I was hoping for additional levels to tackle. Unfortunately, iPad-unique gameplay is still under development and promised in a future update.
If you're new to tower defense games, Fieldrunners is a great place to start, and the iPad is an ideal platform. Fans of the iPhone version might want to wait until new iPad features are added unless they're keen on replaying the same maps. For me, the benefits of the larger screen make even old maps new again.
Field Runners for iPad is compatible with an iPad running the iPhone 3.2 software update or later.
[James Savage is the host of the RetroMacCast a weekly podcast devoted to older Macintosh computers.]