At a Glance
Expert's Rating
Pros
Faster performance.
Variable-width strokes.
Natural media-style painting.
Perspective Grid drawing.
Web-ready text anti-aliasing.
Pixel Grid alignment.
Tight Flex and Flash Catalyst integration.
Cons
Perspective Grid doesn't honor appearances or match object perspectives.
Second, obscure step required for Web-ready text anti-aliasing.
Longstanding feature requests ignored.
Our Verdict
Adobe Illustrator CS5 offers something inspiring for just about all users, from artists and technical illustrators to Web and Flash designers. New features like variable width strokes, Bristle Brush, Perspective Grid, anti-aliasing text for the Web, Flash Catalyst integration, and better performance make Illustrator CS5 a compelling upgrade.
But it's far from perfect. The Perspective Grid feature didn't behave as I would have expected, text anti-aliasing doesn't work without a second, secret option, and many requested features were ignored.
Stroke revival
Among the most noticeable improvements in Illustrator CS5 are those applied to the painting system. These include variable-width strokes, stretch control for brushes, brush corner control, enhanced dashed lines and arrowheads, and a new tool, the Bristle Brush.
First among the new features is the ability to vary the weight or thickness of strokes from start to finish. To make use of this new feature, begin by creating a path—open or closed—and assigning a stroke color to that path. With the new Width tool selected, hovering over any place in the path's stroke presents a small diamond that can be dragged outward to increase the width of the stroke at that point, or inward to decrease the thickness. The new thickness will taper down (or up) toward the ends of the path or the next corner anchor points, which will retain the path's original thickness.
Each stroke may also have multiple width points, enabling subtle or dramatic oscillation of a single stroke. Thus it's simple to create robust, variable weight strokes with a natural, not stuttering feel. You can even save stroke width alterations as profiles that can be applied from the Stroke panel to other paths. One complaint with the variable-width stroke ability is that isn't applicable to all brush strokes. Plus, if you apply a brush stroke to a path, the variable-width disappears.
Brushes did get some serious love in CS5, though. Art and pattern brushes have long suffered with the handicap of being equally distributed along their paths. Now you can define which parts of a brush get stretched and which don't. For example, with a banner brush, not only the middle of the brush would stretch to fit a long path; the decorative ends would also stretch, suffering unsightly distortion. In the Brush Options dialog, you can now specify that the ends of a banner (or other) brush don't stretch, that they remain the same no matter how far the middle section of the brush art or pattern stretches to fill the path between the protected ends.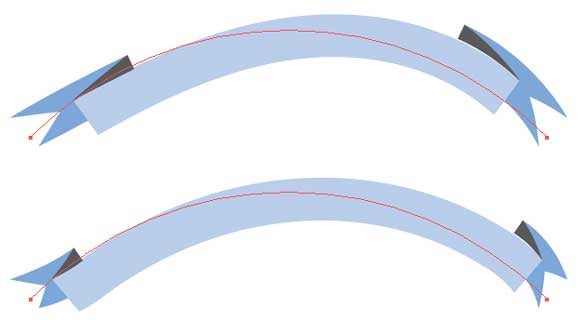 A new Bristle Brush tip mimics natural media painting while remaining vector. Creating a new Bristle Brush lets you begin with either round or flat brushes in one of five styles each—point, blunt, curve, angle, or fan. From there the brush can be completely refined with options for bristle length, density, and thickness, paint opacity, and stiffness. The results of painting with Bristle Brush brushes are astoundingly natural. Illustrator won't yet replace Corel Painter ( ) for lifelike, natural media painting, but then again, Painter doesn't paint in vector.
Brush cornering is also greatly improved in this version. In places where pattern brushes round corners or wide angles, or where path segments of different lengths meet (for instance, in a rectangle with long and short sides), how the brush pattern traverses or joins at those points can be precisely controlled to avoid awkward collisions or empty space.
Similar refinements were added to dashed lines to enable them to look better, to avoid stuttering at path angle changes or where path segments of different lengths meet. Precision scaling of arrowheads that were formerly locked into sizes proportionate to stroke weight completes the refinements of strokes and brushes.
Web and application design
Those who design for the Web or Flash Platform application user interfaces will be pleased by Illustrator's new features.
Many Web and interface designers felt that earlier versions of Illustrator weren't fit for making Web graphics that include text because of its lack of anti-aliasing support. Illustrator CS5 has adopted Photoshop's ( ) celebrated text anti-aliasing system. Now you can optimize the rasterization of type destined for the Web or mobile devices by setting its anti-aliasing to be Sharp, Crisp, Strong, or not anti-aliased. Unfortunately, it doesn't work—at least, not by default.
In order to make the text anti-aliasing you've chosen from the bottom of the Character panel work, you'll have to take the extra step of going to the Image Size panel in the Save for Web & Devices dialog and changing the unlabeled dropdown menu at the bottom to the Type Optimized option.
Flash Platform developers using Flash, Flash Builder, Flex, or Flash Catalyst will also find Illustrator CS5 a compelling upgrade. The program can now save directly to Flex in the FXG format, and includes support for roundtrip editing with the new designer-centric Flash Catalyst CS5 ( ).
Begin by designing your user interface—the entire thing or just an element or two—in Illustrator and open that file in Flash Catalyst to add interactivity. Even after adding components and actions in Flash Catalyst, you can return the design to Illustrator for further tweaking without losing your work from Flash Catalyst.
Perspective drawing
Technical or casual illustrators will either love or hate Illustrator's new perspective drawing feature. Switching to the new Perspective Grid tool converts your flat artboard into a simulated three-dimensional space complete with planes and vanishing points dwindling away onto the horizon. From there, you're drawing in perspective. Grab the Rectangle tool and click and drag on the active surface of the Perspective Grid and you'll draw a rectangle that rides on that surface, growing smaller as the shape moves away from you toward the horizon. Entire scenes can be drawn or rendered with realistic perspective.
The Perspective Grid can be controlled with great precision. For instance you can dynamically adjust the position of the vertical panes, raise or lower the ground level, and even switch between one-, two-, and three-point perspectives.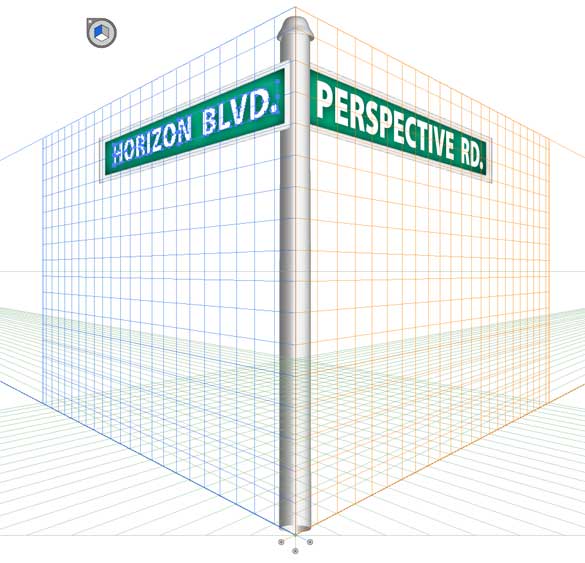 Perspective Grid doesn't work the way I would have expected, however. You can't type onto the Perspective Grid. Instead, you have to first create a type object off the grid, and then move it to the grid with the Perspective Selection tool. And, once text is on the Perspective Grid, it looks like it has been converted to outlines, but it has not. It can be edited by entering a special isolation mode via a new button on the Control panel. Worse than making you think your text has been outlined is the fact that object appearances are not drawn in perspective. Draw a rectangle with a 20-point stroke on the Perspective Grid and you'll have a 20-point stroke all the way around; the stroke won't appear to get smaller as the path moves away from your view, toward the horizon. You'll get the same perspective-clashing results with offset fills, drop shadows, and any other appearance attribute.
Other enhancements
Illustrator includes a slew of smaller but highly utilitarian new and newly refined features. The new Shape Builder tool—sort of a marriage between the Pathfinder commands and converting shapes to a Live Paint object—offers a more intuitive way to combine, divide, and control pieces of overlapping elements. Other CS5 perks include new modes to draw behind or inside objects, the ability to select objects behind the current object, better path joining, 9-slice scaling of symbols (a kind of intelligent scaling), and resolution-independent effects.
For those who have long asked why the Y (vertical) axis must begin at the bottom of the artboard, you'll be pleased to know that Illustrator finally matches the rest of the Creative Suite in putting its default ruler origin—the X and Y zero point—in the top-left instead of the old bottom-left methodology.
CS Live services, which are integrated throughout the Creative Suite, include: CS Live, a panel of shortcuts to Adobe's offering of software as a service tools like Acrobat.com and Adobe BrowserLab; CS Review, an interface that builds on Acrobat.com to enable client or team project review; and CS News and Resources, a panel linking to helpful Illustrator how-tos and other resources. These services are free for a year after installation, and subsequent subscription fees have yet to be announced.
One of the main selling points of Illustrator CS5 is its speed. For example, when applying a memory-intensive, very complex 3D Extrude & Bevel effect to live text, CS4 took 20 seconds to build the final render while CS5 required a mere four seconds. Results of other timed tests with system-intensive tasks were comparable. Illustrator CS5 is much snappier than CS4, and that translates directly into increased productivity.
Still not fixed
A few things I would like to have seen in the release of CS5 went untouched by Adobe. For instance, I find it frustrating to work with 3D Extrude & Bevel because Adobe seems incapable of improving that feature to eliminate the frequent occurrence of self-intersections. The blending modes in Illustrator still have not been updated to match the more fully featured set introduced in Photoshop CS2 (Vivid Light, Color Dodge, and others). For years, users have been asking for enhancements to long-standing Illustrator features like blending, charts and graphs, 3D effects, and others, but CS5 once again ignores those requested refinements.
Macworld's buying advice
Despite long-hoped-for enhancements that have not been delivered, the new features and updates that are included in Illustrator CS5 are so compelling that I'm unable to say anything short of this: Illustrator CS5 is a great buy. Even if you have no need of all the new features—and I can't see anyone not benefiting from at least one of them—the zippier performance alone will pay back the cost of the upgrade in time that you don't have to wait for Illustrator to complete tasks.
[ Pariah S. Burke is the author of Mastering InDesign for Print Design and Production, and other books; a freelance graphic designer; and publisher of the Web sites, GurusUnleashed.com, WorkflowFreelance.com, and CreativesAre.com. Pariah lives in Portland, Ore.]
[Editor's Note: After this review's original publication, we changed some statements to clarify points and to correct errors. The variable-width stroke reference now clarifies that the feature applies to some brush strokes and not to others. The Perspective Grid paragraph acknowledges that text can be edited on the grid, and there is a new image of the Perspective Grid. Another reference was also removed. These changes do not affect the overall rating of the product.]