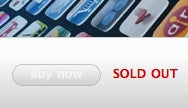 If you were planning on attending WWDC 2010 but have yet to buy your ticket, I hope you don't take disappointment too hard. Despite an April 28 announcement—just six weeks before the conference—Apple's WWDC has sold out for the third year in a row.
The $1,595 tickets for WWDC 2010, which jumped in price by $300 over last year, sold out in just eight days. WWDC 2008 was the first to sell out in company history, and also the first to feature sessions for the iPhone SDK. WWDC 2009 took a month to sell out, so if things keep going at this rate, who knows? WWDC 2011 might sell out in less than 48 hours.
This year, however, Apple's decided focus almost entirely on iPhone OS has rubbed many developers the wrong way. Mac development sessions have taken a back seat to the iPhone and iPad, and for the first time, Apple is only doling out its sought-after Apple Design Awards for iPhone apps; Mac apps need not apply—at all.
Apple has not stated exactly how many tickets were available for WWDC 2010, which will take place June 7-11 in the Moscone West hall in downtown San Francisco, but in previous years the number of attendees has hovered in the thousands.