A Camera Queen from Chen Li is an image-editing application for your iPhone, iPod touch, and iPad that gives you the ability to apply effects to your pictures. You can apply these effects to photos stored in your camera roll or—if you're using an iPhone—take a new picture from within the app to use.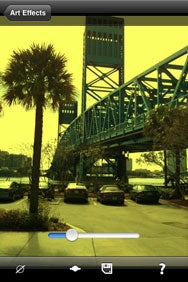 Once you've selected a photo, you can apply one of 24 effects to it. The effects range from the familiar greyscale, negative, and blur to the unusual—rain, pencil, violet, and so on. You can adjust the strength of these effects with a slider at the bottom of the screen.
While some of Camera Queen's effects are decent, many are just not very good. Also, you can only apply one effect to each picture at a time. To apply a second effect you would have to save the image with the first effect to your camera roll and then import it into Camera Queen and apply a second effect.
With so many image editing apps in the App Store, only a few have risen to the top of the list as stand-outs. Camera Queen just isn't one of them. Photo fx and PhotoForge both offer better image editing for not a lot more than Camera Queen's $2 price tag.
[Tim Mercer is a technology enthusiast, graphic designer, and blogger, whose blog, digital-artist-toolbox.com, offers free resources to the digital artist and graphic designer.]