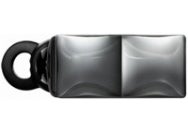 The latest version of Aliph's Jawbone headset, the Icon, offers some clever customizability and unique iPhone integration. Thanks to a new firmware update, the Jawbone Icon works even better with the iPhone and its apps.
This update brings support for A2DP ( Advanced Audio Distribution Profile) for the iPhone 3G and 3GS (as well as other phones like the BlackBerry Bold and Curve, the Google Nexus One, and the Palm Pre). This means that owners of recent iPhones can listen to podcasts, turn-by-turn directions, and other audio wirelessly on the Jawbone Icon.
The Icon also gained support to control audio volume with its single action button. Just hold the button while on a call or listening to virtually any other audio, and the volume level will cycle between its loudest and softest levels.
Installing the update is simple, as we covered in our March Jawbone Icon review, managed with a free downloadable app for Macs or PCs from Jawbone's site. The new features are welcome additions to the Icon's already robust iPhone support, which includes the ability to display its battery level in the iPhone's menubar, voice dialing, and other installable apps. The Icon is available in a variety of colors and styles for $100 direct from Jawbone, or various discounted prices at Amazon.