The arrival of Steam, the popular online gaming service and store, on the Mac platform may very well be a watershed moment for Mac gaming that's discussed for years to come. But before I start waxing too ecstatic, let's take a first look at the private beta of the service and see what Steam has to offer.
Steam, for the uninitiated, is essentially an iTunes Store for games, except with more socializing and actual demos of many games (*ahem*, Apple). It's the creation of game developer Valve, the company behind games like Team Fortress, Left for Dead, and one of gaming's most beloved and legendary series: Half Life. Over the years, Steam has become the go-to place for Windows gamers to shop for and try out everything from blockbuster releases to indie hits, find new friends to frag with, and stay up to date with the latest patches. A Steam buddy list lets you see which of your friends are online, what games they're playing, as well as invite friends into your game or quickly join them on a campaign already in progress—all with a click or two.
Fortunately, Valve spared no expense in bringing Steam to the Mac. This isn't some duct-taped Java port that limps along with a fraction of its Windows counterpart's features. Valve used native Cocoa tools, even going so far as to re-engineer the Steam client and store on Windows to use Apple's WebKit rendering engine—which, in turn, was one of the original hints that a Mac version was in the works.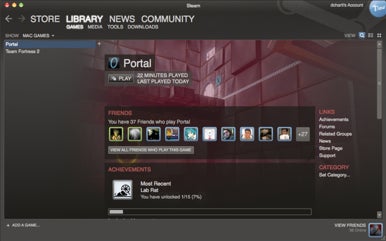 Steam for Mac is very much a doppelgänger of the Windows version, so some elements certainly don't feel very Mac-like. The navigation toolbar, for example, contains large text links for things like the Steam Store and your Library, instead of colorful, intuitive icons like Apple and third-party Mac developers favor (this navigation design actually feels heavily inspired by Microsoft's Zune). If you've used Steam before, however, you'll feel right at home. As a long-time Windows gamer via Boot Camp, there was no learning curve; I instantly started adjusting options for microphone input and downloading my library.
In fact, Valve even brought its Steam Cloud feature to the Mac client. This is a useful service of the Steam APIs that allows developers to synchronize your game settings between each of the computers on which you install your games. If games are compatible with Steam Cloud (Portal and Team Fortress 2 are), your settings will synchronize between the Mac and Windows versions. Customize a game's default keyboard shortcuts, for example, and they get synced back up to your Steam account, then back down to any other computers (Mac or PC) that you install the game on.
Just like installing Steam on a new Windows computer, the Mac client allows users to see the full library of games that they've purchased from the store. Since Steam allows users to load their games on an unlimited number of computers, I could begin installing my games with just two clicks. The music, TV, and film industries could learn a lot from this very appreciated 21st-century convenience.
As Steam for Mac is still in private beta, only two Valve games are currently available: Portal and Team Fortress 2. Now, Valve has promised that more (and more recent) games like Left 4 Dead 2 will be available soon after the beta goes public, and the upcoming Portal 2 sequel will arrive simultaneously on both Mac and PC this fall. The company has also said that third parties are working hard on bringing their titles to the Mac. So far, Runic, a company of ex-Blizzard and Flagship employees, announced its Diablo-esque Torchlight is coming (though its level editor probably isn't), and Tripwire has announced it's working on a couple titles.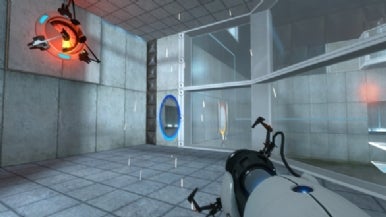 As far as the games available in the private beta now are concern, I'm happy to report that Portal and Team Fortress 2 feel right at home on the Mac. Admittedly, I got a slight chill the first time I started Portal: no Windows, no emulators, no tricks—just one of the greatest games in recent memory, running natively on my 27-inch 2.66GHz iMac. Startup took a little longer than I'd like, but again it's a beta, so I'll reserve judgement until Valve drops that label. But the game itself runs well, and I noticed no stuttering, even after bumping my resolution up from the default to 1600 by 1200.
The Steam for Mac beta is expected to go public on May 12. The client itself is free, and Mac versions of PC games will cost the same as their counterparts. In fact, Valve has created a new Steam Play license and badge in the store to denote games for which you can purchase one license and run the game on both Mac and Windows computers. If you have already purchased Portal, Team Fortress 2, Half Life 2, or Left for Dead 2 on a Windows PC (sorry, Xbox 360 or PS3 owners), you won't have to spend another dime to play them on your Mac.
Given Steam's beta status, there's little else to report for now. Portal ran well, and I'm anticipating Steam going official and the arrival of more games. The only reason I've bought Windows XP, Vista, and 7 licenses since switching to the Mac is so that I can play the games I love. But those days might finally—finally—be coming to an end. Considering how well Valve has done with this initial beta of Steam for Mac, those days can't end soon enough.