If you still don't think Apple has designs on the gaming market with its mobile devices, you haven't been paying attention. The early April release of the Wi-Fi iPad followed at the end of the month with the arrival of the 3G version could have been mistaken for the arrival of a new gaming console, given all the high-profile games available for the new device.
Many of the game makers offering iPad titles include some very familiar faces —Electronic Arts, Activision, and Square Enix. They aren't merely players in the mobile market, they're some of the biggest names in gaming.
It's certainly great to see major developers support your platform of choice. That said, during my month of iPad gaming, I've found the quality of games to be a bit of a mixed bag. Simply put, developers have not had enough time with Apple's new device to understand how to create games for the platform.
Of the top ten best-selling iPad games—at least as of this writing—there's only one that was arguably built for the platform specifically and is not just a port. (GameProm's The Pinball, which, in itself, is an iPad-optimized collection of three pinball games already available on the iPhone.) So I'm hesitant to judge the iPad on the games that are available at this point, simply because I'd just be judging iPhone apps in "HD."
But a month's worth of game playing has given me an idea of what's working and what's not. It comes down to a matter of control—a gaming platform is ultimately tethered by its control system. I've found the iPad's to be suited for certain games, but not others. Here's a rundown of which control schemes are suited for which games on the iPad.
D-Pad gets a D-minus
So far, the clunky virtual d-pad system inherited from the iPhone hasn't been improved enough for shooter games on the iPad to be worth much. On the iPhone, a dual d-pad setup has been serviceable, but on the iPad, I want a more intuitive, console-like playing experience to match the iPad's better graphics and higher game prices.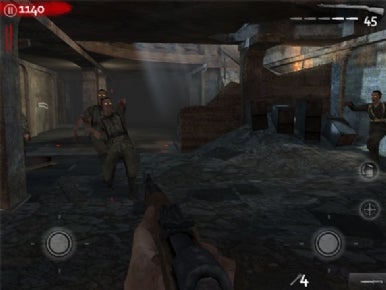 Take Call of Duty: World at War Zombies HD. Apart from possessing one of the worst names ever, the game is still as clunky to play and as short on content as the iPhone version. On the new platform, that just isn't acceptable. Despite the iPad's promise of less cluttered interfaces and more interactive controls, I've found other shooters don't play any better on the device. Resident Evil 4 is now a high-definition subpar knock-off of the original console offering instead of a good game in its own right. Instead of being something between mobile gaming and console gaming, a lot of these iPad offerings play like mobile games—only they cost more.
Rude gestures
Similarly, gesture-based controls may work in some casual settings, but the iPad is proving they have their limits. Sure, Flight Control is still a breeze to play, but both gesture-based strategy and platform games on the iPad have been headaches.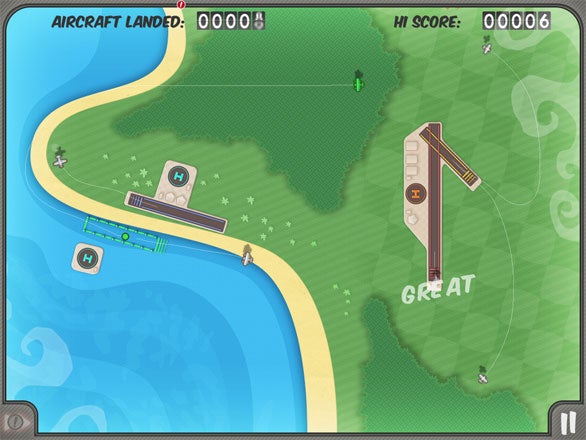 EA's Mirror's Edge was one of the more exciting games available for the iPad at launch, but the gesture-based movement and combat systems handicap what could have been a terrific game. I found it was easy to flick my finger up or down to control the character when she was running at full tilt. But when I tried to do anything more exact—like running across billboards or fighting—the results became a beautiful mess.
Tap your troubles away
Maybe a touchscreen isn't the best choice for precise movements, but games that rely on simple tapping have had more success on the iPad. Rhythm games like Tap Tap Radiation and tower defense games like Plants Vs. Zombies are just as easily played on this device as they are on the iPhone or iPod touch.
Similarly, strategy games that rely on turn-based movement and tapping have actually faired better on the device than I anticipated. Games like Strategery and Civilization Revolution—the former a hybrid game, the latter an iPad-optimized title—play much better on the iPad because its larger screen reveals more of the battlefield while still offering a simple touch mechanism for ordering around your units.
Part of the appeal of turn-based strategy games on the platform is the removal of the time factor; with a game like Command and Conquer: Red Alert, you have to order your troops precisely in real time. Turn-based strategy games are simpler to play, aren't as demanding of pin-point accuracy on the touchscreen, and are more approachable to a casual audience—making them uniquely suited to the iPad.
Accelerated developments
Thanks to the iPad's accelerometer, developers are also proving that the new device is uniquely well suited for driving games. Real Racing, the Need for Speed series, and many others have harnessed the power of the iPad's "tilt" controls to create racing simulations that are better than anything else out there—console or mobile. True, the iPhone and iPod touch also use the accelerometer to great effect, but the iPad's size makes steering feel more natural.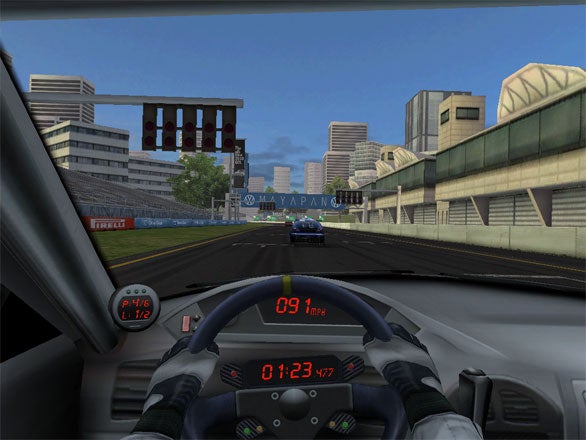 While the games still don't compare graphically to a game on the PS3 or Xbox 360, I personally feel that the iPad offers a better control interface because its unique shape and size actually resemble a car's steering wheel. When the graphics and depth catch up to console games like Project Gotham and Gran Turismo, the iPad could become the best platform ever built for racing games.
iPhone Games on the iPad
While many developers launched "HD" versions of their best-selling iPhone games for the iPad, others have been slower to adapt. The iPad's ability to play iPhone and iPod touch games didn't get much fanfare when the ability was initially revealed, but games like Street Fighter IV prove that not every game has to be designed for the iPad to be enjoyed on the platform.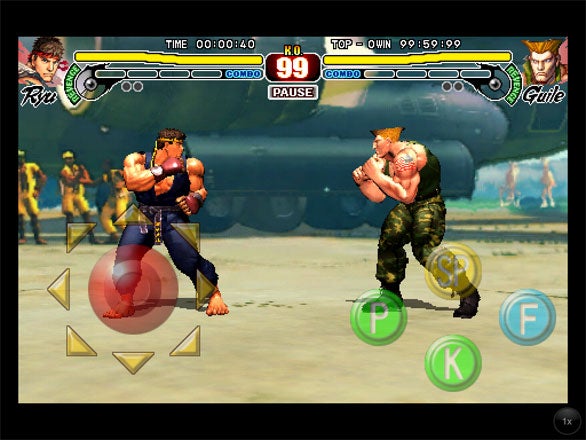 Running iPhone and iPod touch games on the iPad, you'll see more pixels and the graphics will take a major nosedive if you blow the game up to the iPad's full screen. But the iPad's superior processor means the games often run smoother than on Apple's smaller devices. Other games, particularly those that don't let you go to full screen, can be awkward and frustrating on the iPad, but there are enough gems out there to make the iPad an impressive "backwards-compatible" platform.
The road ahead
The iPad's touch screen is well suited for turn-based strategy games, boardgames, and pinball games, but developers have only begun to explore what other genres may succeed on the platform. The iPad is more than a large iPod touch, and there's a reason why many gaming experts are taking the device seriously.
So far, though, the first month of iPad gaming looks a lot like the past 12 months of iPhone and iPod touch gaming. It'll be up to developers of all stripes to push the platform into something that's more than merely mobile gaming, but something that can compete with the gaming experience granted by a traditional console.
[Associate editor Chris Holt covers gaming for Macworld.]
Apple iPad Tablet Computer
Apple iPad Tablet Computer
iPad (2010)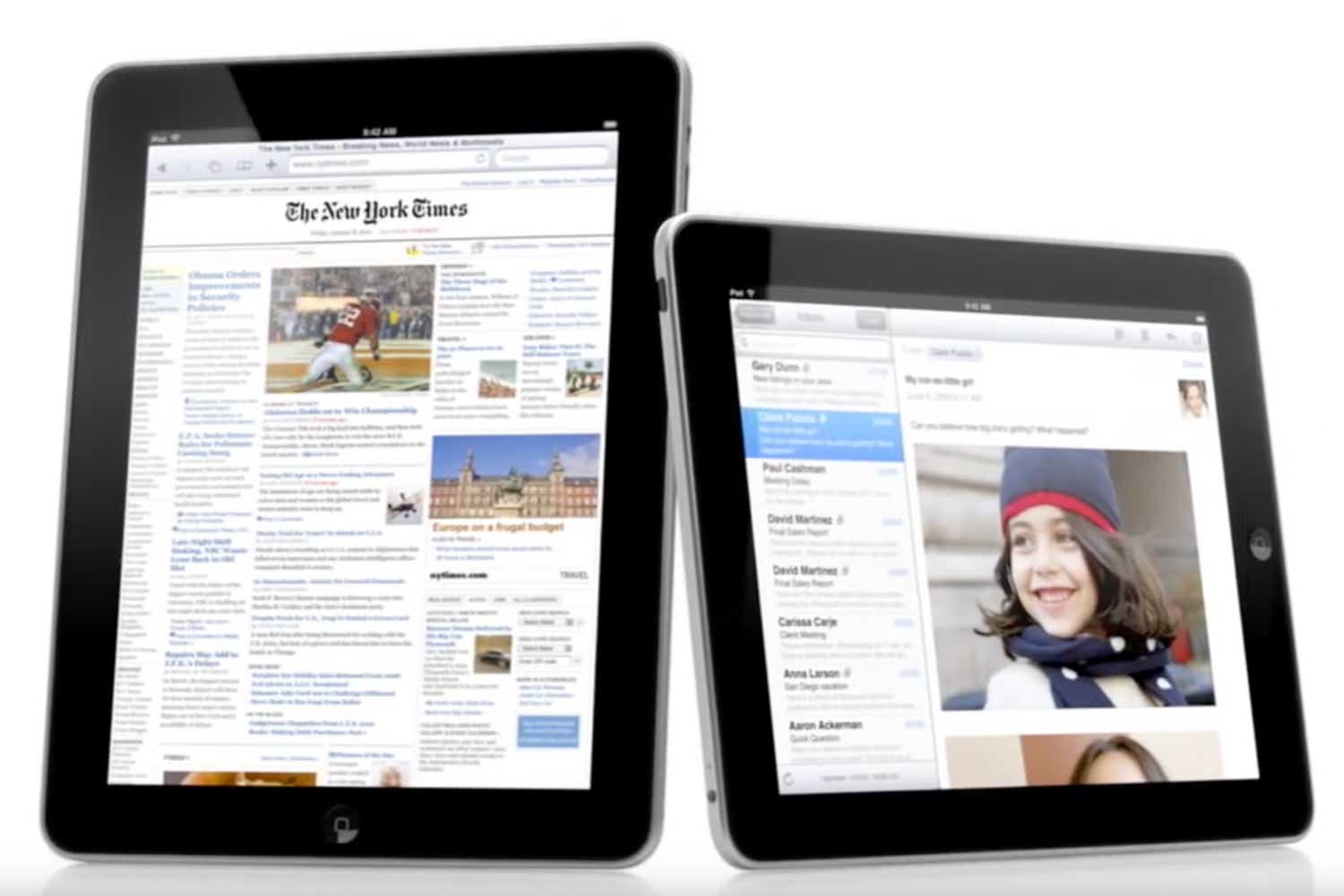 Read our full
iPad (2010) review
Note: When you purchase something after clicking links in our articles, we may earn a small commission. Read our affiliate link policy for more details.