Editor's Note: The following article is reprinted from CIO.com. Visit CIO's Macs in the Enterprise page.
Can you say "Jibbigo" in Arabic? Now you can.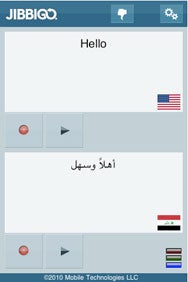 Jibbigo, a voice-to-voice translation app for the iPhone 3GS and late 2009 iPod touch, is arguably the hottest app today, appearing in the latest Apple television ads. It's also one of the smartest apps in the App Store.
Recently, Mobile Technologies, makers of Jibbigo, launched a fourth version: an Iraqi dialect of Arabic.
Think of Jibbigo as the grandfather of the futuristic universal translator. Just speak into the iPhone in either English or another language, and in a few seconds a voice translates your words. Translations also appear in written form.
Since I first reviewed the original Spanish version last fall, Mobile Technologies, a company founded by Carnegie Mellon University Professor Alex Waibel, has been busy delivering Japanese, Chinese, and now Arabic versions. The apps aren't cheap, ranging from $25 to $30 each.
More languages are on the way. Mobile Technologies plans to add five languages by the end of the year. Also in the works is an app that translates road signs. Soon, you'll be able to take a picture of a road sign with your iPhone camera, and the app will translate the sign's meaning.
Thanks to the iPhone's considerable processing power and memory, voice-to-voice translation for mobile consumers has become a reality, says Waibel. Prior to the iPhone, voice-to-voice translation software had to run on bulky PCs.
Mobile Technologies spent a year developing clever algorithms for the iPhone, as well building a massive vocabulary database. The result: voice-to-voice translation without an Internet connection, so people can use the app in areas where there isn't much coverage, such as in war-torn Iraq.
Over the past year, iPhones have made their way to warzones. The iPod Touch, which Apple calls the "funnest iPod ever," is fast becoming the iPod of war. The U.S. military, for instance, has been doling out the iPod touch to soldiers in war zones in the Middle East.
When it comes to performance, Jibbigo has a ways to go. I experienced latency and translation problems in noisy environments such as restaurants. The words of native speakers of, say, Spanish, often didn't translate correctly when the topic didn't concern travel or first aid.
(Jibbigo apps are geared toward travelers. The Iraqi version has an additional focus on service personnel in civil engineering, police and infrastructure.)
Early adopters of the Spanish version were U.S. doctors who helped build clinics and provide healthcare in poor villages in Honduras.
"We really want to change the world with this," Waibel says. The goal of Jibbigo's latest app is to help soldiers communicate with Iraqis in the field.
Waibel maintains that Jibbigo's use among American soldiers in Iraq does not run contrary to the application's humanitarian roots. "We have no say in where, whether or why there is war or strife in the world, but once there is a crisis we do believe that getting people talking on the ground in the midst of it is always better than the ignorance, fear, suspicion and mistrust that comes with lack of communication," he says, "and that is not fluffy theory."