A while back I reviewed GoodReader for the iPhone, and thought it was a superb app. In adapting the file importing and viewing (and listening) app to the iPad, Good.iWare has hit a home run. The app works as easily and smoothly as the iPhone version, and it has a few extra tricks up its sleeve for good measure.
Most notable among these new features is that the app now enables you to import and view documents from Web-based file-sharing/backup sites such as Dropbox, box.net, iDisk, and others. You can also import and view e-mail attachments via the Mail app's document-sharing feature, and import and view documents from Google Docs. You can set GoodReader up to import files from local servers via Wi-Fi. And thanks to restrictions lifted by Apple, GoodReader for iPad also enables you to transfer files from your Mac via USB.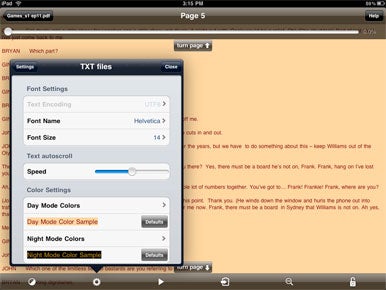 As with the iPhone version, GoodReader for the iPad offers a smart interface that uses the iPad's extra screen real estate to provide a view of your documents (which you can organize into folders) on the left hand side of the screen, and functions you can perform on panels on the right hand side.
The primary functions, in addition to file viewing, include thumbnail previews, searching, file management (which includes the ability to protect files, star them, mark them as read, create new files and folders, e-mail files, rename files, create links to files, and even compress files and folders), and also browse and download files from Web sites.
This level of functionality is exceptional. What adds an extra sparkle to GoodReader is that it supports most common document file types, while also allowing you to save and view Web pages (either in HTML or Safari webarchive format), and download, listen to, or view photos, audio, and video files. Movies and music play back without a hitch; in addition to viewing photos within GoodReader, you can also save them to your iPad's photo album.
The iPhone version of GoodReader's most impressive feature set enables users to open, browse, read, bookmark, and search PDF files. The app also offers a feature called "PDF reflow," which automatically extracts text from PDF files and outputs a readable text file, when possible. (Some PDF files are essentially image files, and GoodReader can't extract text from them, for example.) All of the PDF features available in the iPhone version are present and work even better on the iPad's big screen; the multiple options provided for navigating documents especially benefit from the extra space.
While GoodReader offers a lot, it would be an almost perfect app if it enabled you to cut and copy text and images via the iPad's clipboard, and if it provided some kind of notation feature, such as highlighting or commenting capabilities. It's unclear how difficult these would be to implement from a programming point of view, but it seems that Good.iWare's development team can accomplish some pretty mean feats.
[Jeff Merron is a freelance writer and editor living in North Carolina.]