Sleep may be one of our most basic needs, but how much do you really think about it? iHome's iHome+Sleep app aims to help you get the best sleep experience possible, utilizing every feature at its disposal, from integration with your iPhone's music library to keeping stats about your sleep habits.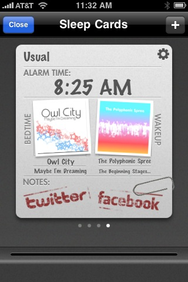 The iHome+Sleep app works with iHome's "App-Enhanced" products, such as the iHome iA5 alarm clock, but it also functions on its own as a full-featured alarm clock app. You can customize a variety of alarm presets, view weather forecasts, and even get social networking updates delivered to you when you wake up in the morning.
iHome+Sleep uses a "Sleep Cards" metaphor for its alarms. Each card is a different alarm preset which lets you choose an alarm time, what days it should repeat on, the duration of the snooze, plus options for music, reminders, and social networking messages.
There are two types of sleep cards—naps, which are for a preset duration, such as 20 minutes, and alarms, which are for a specific time (like 8:30 a.m.). The number of options are staggering: you can pick music from your iPod library to fall asleep to (along with a sleep timer), wake to one of seven alarm tones (or your music), create text reminders that pop up when you go to sleep or wake up, and even customize Facebook or Twitter messages that can be sent out at bedtime or when you wake up.
You set an alarm by swiping the card down into a slot that magically appears at the bottom of the screen, and you can set multiple alarms simultaneously if you want (handy if you have people that need to wake up at different times). However, I did find the interface for setting the cards at times unintuitive and touchy—it wasn't always clear where you had to press to make something happen or what gesture to use, and sometimes the area you need to hit is very small (the gear icon that brings up settings for a card, for example), making it hard to hit precisely.
If you dock your iPhone with the iHome iA5, you also have the option of managing the iA5's own alarm from the application, which is useful and decidedly more friendly than fiddling around with the buttons on the back of the alarm clock. It's also worth noting that you have to keep the iHome+Sleep app running while you're sleeping, but at least you can turn off the display (or use the app's built-in dimming preference) if you're a light-sensitive snoozer.
The app also tracks sleep stats, though I found that they didn't always jibe with what I had observed myself—then again, if I'm getting as little sleep as the app suggests, then perhaps that's just my own fallibility.
One downside is that unlike Apple's built-in Clock app, you'll have to leave the app running for the alarm to work. (The forthcoming addition of multitasking to iPhone OS 4.0 should obviate that need). Plus, if you're using it overnight—instead of just for a nap—you'll probably want to plug in the phone, too, so it doesn't run out of power.
While the iHome+Sleep app really shines in conjunction with iHome's devices, it makes a pretty good alarm clock when you're on the go, and it helps make sure that you start your day on the right side of the bed.
[Dan Moren is a senior associate editor for Macworld.]