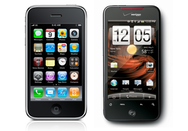 The smartphone market is among the most volatile in the technology industry at present, as rivals battle it out for the future of mobile devices. According to new numbers from market research groups, Google's Android has taken a leap in popularity, but Apple remains in solid position among smartphone makers.
Market research firm NPD Group announced on Monday that Android had taken second place in market share among smartphone operating systems, with its unit sales in the last quarter rising to 28 percent. That falls short of the 36 percent share that BlackBerry-maker Research in Motion commands, but does trump the iPhone OS's 21 percent. NPD analysts attribute much of that gain to aggressive pricing on the behalf of Android wireless partners such as Verizon, which has been pushing a buy-one-get-one promotion for its smartphones.
But that doesn't mean Apple's not in fine shape. Last week, research group International Data Corporation reported that Apple doubled its shipments in the first quarter of 2010 from the same quarter the previous year. That puts Cupertino's worldwide market share at 16.1 percent among vendors of what IDC calls "converged devices," third place after Nokia at 39.3 percent and RIM at 19.4 percent. And the company moved a record number of iPhones in the second quarter of 2010, even topping the previous quarter's holiday sales.
Meanwhile, a report at All Things D cites metric firm comScore's latest numbers, which position Apple at 5 percent of the overall mobile equipment manufacturer market (that includes smartphones and conventional cell phones). As All Things D's John Paczkowski points out, that's a pretty impressive share for a company with just one phone.
It's important to note that all three of these numbers measure different things, with NPD talking about smartphone mobile operating system share in the U.S., IDC about manufacturer share for converged devices worldwide, and comScore about overall mobile hardware manufacturers.
And even within the figures, there are comparisons that aren't quite equal. For example, Android's improved sales stem at least in part from the multitude of devices now running Google's operating system. Unlike Apple, which has a single phone running on one carrier in the U.S., Android is supported by tons of models, available on all four of the major U.S. wireless providers.
In addition, new models of Android phones have been coming at a breakneck pace—it seems that no sooner does a new "king of the heap" come out but it's supplanted by a challenger: the Motorola Droid, the Nexus One, and the Droid Incredible have all been released within the last six months. Apple, on the other hand, releases only one new model a year. And we've yet to see a new iPhone in 2010—well, officially, in any case.
One thing everybody seems to agree on is that the mobile market is growing at a prodigious rate. With a new iPhone presumably on the horizon and Android's continued growth, it seems we've got ourselves a horse race.
Disclaimer: IDC and Macworld are both owned by IDG.