Smule dominates the iPhone OS creative music app landscape, with apps like Ocarina, Leaf Trombone, I Am T-Pain, and Magic Piano. The company's latest release is Glee, a hybrid app for both the iPhone and iPad, in partnership with the hit Fox television show of of the same name. The Glee app is essentially a karaoke kit, in that its lets you sing the lead vocals on songs straight from the series. But it comes with a twist that more karaoke bars should consider—the app provides automatic pitch-correction and harmonization for the melodies you sing.
And it's unabashedly fun. If you sing in the shower or during your daily commute, you already know how great you sound. Built-in auto-tuning, of course, can help you sound great to everyone else, too. You pick out a song, sing your heart out as the lyrics are displayed on the screen, and then you can save the song on your iPhone or iPad, e-mail it to friends, or post it to Facebook and Twitter.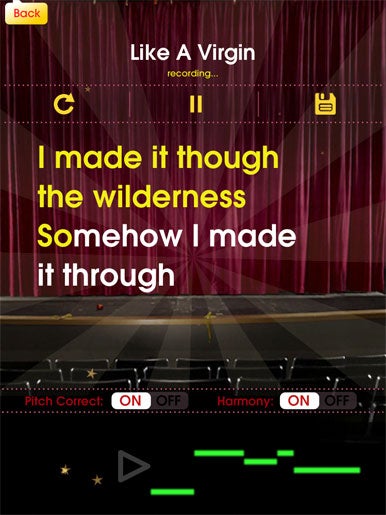 Now, as you'd expect, the pitch-correction is imperfect. If you use the built-in microphone (as opposed to an external headset mic), quality can get a little spotty. I wouldn't expect Glee to make, say, my mother—who always has a song in her heart, but is the first to admit it's absolutely never in tune—sound like Madonna, but I'm confident she'd have a delightful time singing a song or two with the app.
Unfortunately, Glee's built-in song selection is limited to just three songs ("Rehab," "Somebody to Love," and "You Keep Me Hanging On"), with about 20 more available for purchase for $1 each. You'll find some Glee neo-classics ("Bust a Move," "Like a Virgin"), but many Glee classics are completely MIA (like "Don't Stop Believin'" and "Proud Mary").
To make up for the missing songs, Glee offer an A Cappella mode (where you can sing any song you'd like) and an option to sing along with any iTunes track you've loaded on your device. In both modes, the app will try to fine-tune your pitch and auto-harmonize, if you'd like. My 3-year-old daughter isn't familiar with the music of Amy Winehouse or Queen, but she loves the a cappella part. It's a bit finicky—tasked as it is with the thankless task of trying to determine your current key based on the first note you sing—but it's a real hoot. (Frankly, you haven't lived until you've heard my girl sing her slightly-demonic auto-tuned rendition of "The Itsy Bitsy Spider.")
On the iPad, you'll need headphones if you want to hear the harmonies and pitch-correction live as you sing. You'll want to do so, because it's a lot easier to keep on key if you can hear Glee's tweaks live. (Pro-tip for iPad users: Turn the device upside-down, so that the Home button is at the top, to make it easier to read the lyrics while pointing your mouth to the microphone.) On the iPhone, you can hold the device like you're making a call if you want to hear the adjustments live while you sing.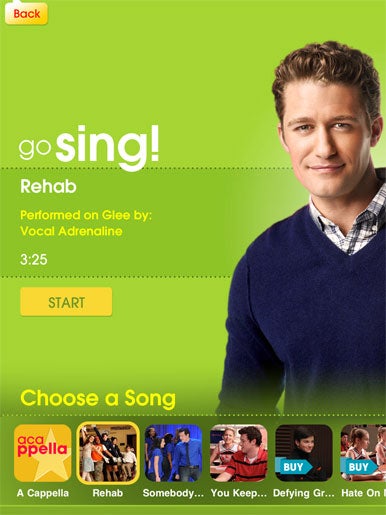 That's really the only difference between the iPhone and the iPad version, which is a missed opportunity. Instead of taking advantage of the iPad's screen real estate, the iPad version of Glee is really just blown up from the iPhone version. Song options are all displayed with their titles harshly truncated ("Somebody…"), with a nearly full-screen photograph of the show's character Will Schuester—which is a silly waste of space.
In true Smule fashion, Glee also offers options to hear recordings made by other singers around the globe. You can broadcast your own takes, invite others to add their own vocals, or lend your voice to other shared songs. It's a nice touch, although it does reveal that there are, if you'll forgive me, a lot of lousy singers in this great big world of ours.
Glee is, as I said at the outset, fun. But the app's limited set of included songs, along with some notable missing Glee hits, hampers its potential. To be truly replayable, Glee needs lots of different songs to sing, which could run you back another $20 on top of the app's purchase price.
[ Lex Friedman tries to hit all the right notes on his blog and Twitter.]