If you love your iPad but can never quite get comfortable with it, there's a lap for that. Or more specifically, a lap desk. Quirky, an e-commerce site where products are directly influenced by community members, unveiled its new Cradle lap desk for the iPad on Monday.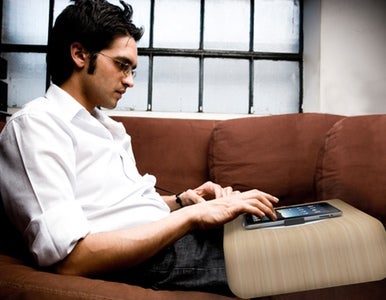 Made of Plyboo, a bamboo plywood with a foam cushion underneath, the Cradle's meant to sit comfortably upon your lap. Your iPad, meanwhile, rests snugly nestled inside the integrated plastic circular plate—a sort-of Lazy Susan that lets you rotate the iPad between portrait and landscape modes without needing to lift it up. Because we know how much of an ordeal that can be.
The Cradle is available for pre-order now at a cost of $53.