Pantone has announced Pantone Plus, an update of and replacement for its well-known Pantone Matching System.
"Pantone Plus takes what designers and printers know and love about the Pantone Matching System and supercharges it with a host of new features, colors, and digital tools," said Ron Potesky, senior vice president and general manager of Pantone in a statement announcing the update. "The Plus Series provides designers with greater freedom for selecting, specifying, and matching color. And, since the Pantone Plus Series is based on the widely used Pantone Matching System, there's no training or new equipment required to start pushing the boundaries of creativity."
The new Pantone Plus Series offers a number of new features and capabilities, including the chromatic arrangement of colors, an expanded palette of spot colors, additional new metallics, and a broader range of neons. All books in the Plus Series are printed on text-weight paper.
The Pantone Plus Series includes the following:
Pantone Formula Guide (Solid Coated And Uncoated) and Pantone Solid Chips (Coated And Uncoated): The Pantone Plus Series Formula Guide and Solid Chips introduce 224 new solid colors for a total of 1,341 colors. The new colors are formulated with the same 14 ink bases as the original Pantone Matching System, ensuring that most printers can reproduce the new colors. In addition, consistent ink film thicknesses make the new colors easier for printers to match on press, the company says.
Pantone Color Bridge (Coated Or Uncoated): The new Color Bridge guide has been printed within ISO specifications and G7 processes, except for optically brightened paper. It will be available in June.
Pantone CMYK (Coated And Uncoated): The new CMYK guide offers a smoother progression of 2,886 CMYK colors for four-color process printing, the company says. The guide is printed with bio-friendly ISO-certified inks on optically brightened paper.
Pantone Metallic Formula Guide (Coated), Pantone Metallic Chips (Coated), Pantone Premium Metallics (Coated), and Pantone Premium Metallics Chips (Coated): Premium Metallics includes 300 new, non-leafing metallics that have been formulated for greater brilliance, even when coated.
Pantone Pastels & Neons (Coated and Uncoated), Pantone Pastels & Neons Chips (Coated and Uncoated): Pastels & Neons is a collection of 154 pastels with 56 neon colors.
Pantone Color Manager Software: This free utility, which is included with a Plus Series purchase, lets designers update their applications (such as Adobe Creative Suite apps or Quark XPress) with the new color libraries. It also allows users to convert spot colors to CMYK simulations based on loaded ICC profiles. A public beta version of Color Manager will be available to registered users in June. Pantone Plus Digital Libraries for Adobe and Quark will also be available for free in June to anyone wanting to update their design software with the new Plus Series colors.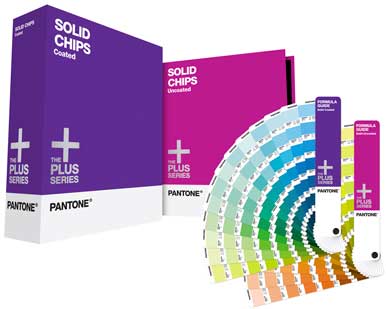 All guides in the Plus Series include a ColorChecker Lighting Indicator that determines whether current lighting conditions are suitable for color evaluation.
The Pantone Plus Series products are available immediately and can be bought from the Pantone Website.
Via the Pantone Chip-in Program, customers can trade in old Pantone Products and receive a rebate to help offset the cost of upgrading to Pantone Plus. Prices range from $69 for the Metallic Formula Guide to $259 per set for the Pantone Solid Chips.
iPhone and iPad apps
Creative pros can also access the new series from their iPhones with the myPantone and X-Ref apps.
The myPantone app ( ) and its companion X-Ref app are available for download at the Apple App Store for $10 and $2 respectively. myPantone and X-Ref are compatible with iPhone OS 3.0 or higher, and can be used on the iPhone, iPod Touch, and iPad. Automatic updates, including the new Pantone Plus Series Color Libraries, will be available in June.