N.O.V.A – Near Orbit Vanguard Alliance remains one of the top first-person shooters for iPhone, and thankfully fans didn't have to wait long as Gameloft had NOVA HD locked and loaded for the iPad's release.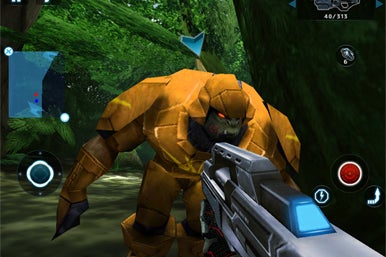 NOVA HD preserves everything that worked for the iPhone version (read our review) and brings with it higher resolution graphics and a few control tweaks. Like the iPhone version, NOVA pits you against a variety of alien enemies in 13 levels set in five different environments in the single player campaign. Local or Internet multiplayer is also included. Thankfully iPad vs iPhone/iPod Touch multiplayer is supported should you want to play with friends using a mixed assortment of iPhone OS devices. One significant difference with NOVA HD is the presence of a moving map on your display. You can choose to hide it with the press of your finger or even resize it to get a better view of the entire map. The other new features of the HD version include a variety of multi-touch gestures required to actuate doors and an optional method for throwing grenades.
Gameloft didn't change much with NOVA HD, but they didn't have to. The higher resolution graphics and stunning visuals make for a whole new experience on the iPad. Now you can comfortable play with the iPad at arm's length. Plus, with the larger screen, your fingers and controls don't obscure large portions of your view—thereby creating a more immersive experience. While the default control layout worked pretty well for the iPhone version, you'll probably want to experiment with the position and layout for NOVA HD. With all the extra room, you can customize to fit your hands and playing style. The addition of the multi-touch gestures—while interesting at first— aren't really necessary and detract rather than add to the otherwise excellent controls.
If you've already played through NOVA, there aren't any new levels in NOVA HD, but the impressive visuals might tempt you to run through the single player campaign again. For multiplayer fans, NOVA HD's better controls should give you an advantage over iPhone players in frantic deathwatch battles. NOVA HD continues the NOVA tradition and sets itself apart as the best first-person shooter available for iPad.
N.O.V.A. HD is compatible with an iPad running the iPhone 3.2 software update or later.
[James Savage is the host of the RetroMacCast a weekly podcast devoted to older Macintosh computers.]