Users of LotusLive Meetings can now participate in online meetings on-the-go with an iPhone app.
IPhone users can join a LotusLive webcast and share files over either 3G or Wi-Fi networks.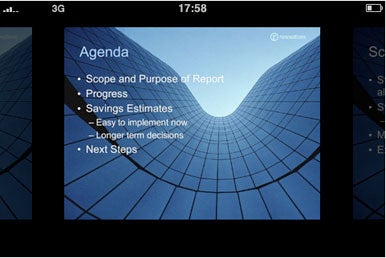 Users can listen to the audio for the meeting while viewing meeting content and see live shared desktop content like presentations and documents. They can also take part in group and individual chats and virtually raise their hands to alert the presenter.
It's not quite like a true webcast, however. Users dial into the audio conference and then join the meeting online in order to view slides or other content.
The iPhone app is free and available now in the App Store but users must be authorized to access LotusLive Engage, a set of collaboration services, to use it. LotusLive Engage costs $8 per user per month.
A similar offering is available for BlackBerry phones and IBM said it plans to soon include Android handsets and the iPad among supported devices.
This isn't the first or only iPhone app that lets people join webcasts. Cisco supports iPhone users on its WebEx meetings which allows the phone users to start, schedule and join WebEx meetings and view shared content. Other companies like Fuze offer iPhone apps that let people start, host and attend Web meetings.