As amazing as the iPhone is, its built-in camera is—to put it charitably—less than stellar. Even though the camera that comes with the iPhone 3GS is a marked improvement over the camera in earlier phones, it's still a pretty basic camera. There's no flash, no zoom, and no shutter timer, to name just a few features that are still missing in action.
Enter Camera One from CocoaTek, which goes a long way in making up for these missing features.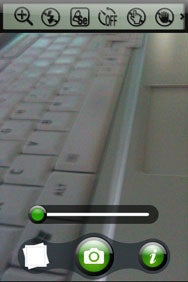 The app has a great interface that's both simple and intuitive. Along the top of the screen, you'll see a toolbar that you can swipe left or right to show all the features Camera One offers. Contextual buttons along the bottom reflect the features you've enabled.
Camera One has eight different features that can help you to take better photographs. Digital zoom allows you to zoom in up to 4X for when your subject isn't quite close enough. As with any digital zoom, the image becomes more pixelated the more you zoom in. Still, having the option to zoom is better than having no zoom at all.
To help with poorly lit shots, a digital flash feature lightens your images a bit by processing them after you snap the picture. The drawback to using the flash feature is it can increase the amount of noise in your image, resulting in a grainy look.
Camera One's shutter timer is perfect for those group shots. You can set the timer to snap a picture in two, five, or ten seconds after the button is taped. There's also the option to turn the whole screen into a shutter button so that wherever you touch the screen, a picture will be taken.
An anti-shake feature helps to avoid those blurry photos. When it's enabled, the camera waits until your hand is steady enough to snap a clear picture. This capability also proves to be really handy in low light situations.
The sound activated shutter feature lets you take pictures by just saying cheese or making noise like clapping your hands.
You can choose to shoot in black and white, vivid, or sepia modes. The results were quite nice in all three of these modes, though sepia really stood out for me. Processing these effects takes a few seconds after you shoot your picture but it's worth the wait.
In the settings menu, you can turn on a time stamp feature to have each picture stamped with the date. You can also choose from small, medium, large, or original output sizes or make the app ask before it saves each picture. There is also a help section that has an FAQ and a nice guide to taking better iPhone pictures.
All of Camera One's features work really well and definitely help to make up for the default camera's shortcomings. If you like to take pictures with your iPhone, you're sure to find Camera One quite useful, especially for just $1.
[Tim Mercer is a technology enthusiast, graphic designer, and blogger, whose blog, digital-artist-toolbox.com, offers free resources to the digital artist and graphic designer.]