What's it worth to you to save $180 a year? That's the difference between the two cellular data service plans offered by AT&T in the United States for the 3G iPad.
For $15 per 30-day cycle, you can consume a combined total of up to 250MB; unused data isn't rolled over, so it expires. For $30 per month, AT&T provides truly unlimited data—as with the iPhone 3G and 3GS plans.
I don't know about you, but if it means saving $180 over 12 months, I'm willing to be a little creative.
That $180 savings is in the U.S. only, of course. Carriers in Europe and Japan just announced service plan pricing for 3G iPad service, and none of those plans include unlimited use at 3G speeds. Typically, even with a monthly plan, you can pick a limit between 200MB and 10GB, depending on country and carrier.
Pass the limit and you're either cut off (and sometimes, like with AT&T, can top up with another purchase), or your connection is throttled over a cellular network to 64 Kbps for the remainder of the current billing cycle.
David Chartier already tackled the many ways in which you can burn 3G data. I'll elaborate on strategies that let you keep your data usage over cellular as low as possible.
Turn off, tune out
First, learn the location of the iPad's all-important Cellular Data switch. Found in the Settings app in the Cellular Data section, this switch controls whether an iPad uses a cell data connection when one is available or not.
If you're not using AT&T's unlimited plan—you have its 250 MB plan or are signed up for 3G service outside the U.S., which always has some limit—you should plan to set Cellular Data to the Off setting unless you specifically need access.
By just keeping Cellular Data set to On, all the various background activities that an iPad can perform even with iPhone OS 3.2 still occur and consume data. You should separately disable those actions, too, but keeping Cellular Data off removes accidental usage.
When you need to use 3G, sip don't slurp. Turn on the Cellular Data option for particular tasks, such as reading e-mail, viewing Web pages, or downloading a particular file. Then, when finished, turn it off right away.
Putting your iPad to sleep doesn't stop data from being received; only turning off Cellular Data discontinues any unintentional data usage.
Flip switches, change settings
You can slim your 3G profile in other ways by taking precautions before hitting the road and burning data.
Turn off push: In the Settings app in Mail, Contacts, Calendars,tap Fetch New Data, and set Push to Off and Fetch to Manually.If either Push or Fetch are enabled, your iPad will regularlyreceive or retrieve mail and other updates. (If you turn offPush and Fetch, however, Find My iPad will no longer work fortracking a wayward iPad.)
Apple automatically prevents the download of largeattachments, but if you receive piles of e-mail each day, youcould waste megabytes having messages pushed to you immediatelywhen you otherwise could retrieve it at a Wi-Fi watering hole.(If you need e-mail pushed to you, you almost certainly alsoneed more than 250MB per month.)
(Updated to add: The downside of disabling the Push feature is that it prevents MobileMe from tracking your iPad via the Find My iPad page at me.com.)
Set Maps to show streets not satellites: A single page of Google satellite-view data in the Maps app consumes about 1 MB. In testing with the Classic view, in which only road outlines are shown, Maps still eats data quickly, just not quite as quickly.
Tap the page curl in the corner of the Maps app, and tap Classic in the Maps section.
Disable automatic sync in apps like NYTimes: These settings take effect only when a given app is active, but if you don't change behavior before you launch the app with cellular data active, you'll incur usage before you can turn it off.
Settings for disabling sync are scattered all over the place. The NYTimes app places its sync (separately controlled for Wi-Fi and 2G/3G data) in the Settings app in the Apps list.
Avoid high data use programs
Modern 3G networks are fast enough to belie the image of sucking a coconut through a straw, but that coconut comes with a price tag on it. If you take advantage of 3G speeds—hitting a raw rate of 7.2 Mbps and an effective throughput of 1 to 4 Mbps on many networks on an iPad—you could exhaust a 200 to 300MB data plan in half an hour.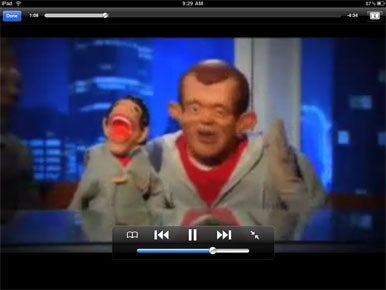 Don't stream anything: Streaming video from apps approved to run over a 3G network, such as Netflix, will fast-forward through your allowable data at the rate of hundreds of megabytes per hour.
Delay podcast and iTunes downloads AT&T and other carriers allow up to 20MB per podcast, video, or song. With AT&T's plan, 20MB works out to about $1.25 in usage, a hefty chunk of your monthly bill.
Avoid app updates: You can download updates of up to 20MB, but that's ill advised.
Skip launching apps that sync without a control option: NetNewsWire doesn't let you prevent or schedule or disable synchronization with Google Reader, for instance.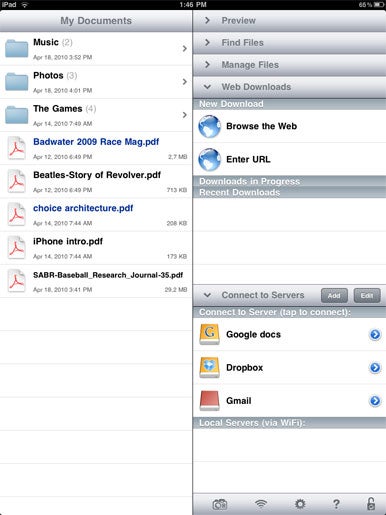 Use apps sparingly if they connect to servers: I love Air Sharing HD and GoodReader to pieces, two apps that let you retrieve files from WebDAV servers, mail servers, MobileMe, and more to view them on your iPad. However, you could easily err and pull in a multi-megabyte file over 3G. Better to make sure you're retrieved needed files (unless it's an actual necessity), storing them locally in the app's own storage areas for local display.
Beware over-the-air GPS navigation: There are many, many GPS navigation apps available for iPhone OS which will work on an iPad (even in the iPhone simulation mode). However, some of these programs keep map data inside themselves—often taking 1 to 2 GB of storage—while others pull map data over the air as needed.
Use Wi-Fi
It may seem to go without saying that you should Wi-Fi when available to avoid running through 3G data allotments. However, AT&T and several carriers outside the United States include free Wi-Fi service on affiliate networks as part of a 3G plan.
Of course, there are limits even there. While AT&T doesn't meter usage on its Wi-Fi network—it's truly unlimited—several non-U.S. carriers do. For instance, Orange UK allows only 750MB of use per month as a footnote to its "unlimited" Wi-Fi offering paired with iPad 3G service plans.
Download a hotspot locator as part of your advance planning to limit 3G usage. The free Wi-Fi Finder from veteran hotspot directory builder JiWire and Devicescape's free Easy WiFi both help find free locations wherever you are.
Eschewing 3G altogether
You can try to get all the way to zero, too, by avoiding 3G data plans unless absolutely necessary.
If you're traveling with a laptop and an iPad, you could opt for Virgin Mobile's pay-on-demand mobile broadband service, which requires the advance purchase of a $100 USB modem that comes with Mac and Windows drivers. You can use Internet Sharing in Mac OS X to pass 3G service through to Wi-Fi devices. Virgin charges from $10 for 100 MB (expires in 10 days) to $20 to $60 for from 300 MB to 5 GB (expires in 30 days). There's no contract commitment.
The 3G option helps if you need data absolutely everywhere, but if you can settle for almost anywhere in a city, airport, hotel, or retail district, you might opt for Boingo Wireless's $8-per-month mobile Wi-Fi that works with the company's free app. Boingo has tens of thousands of locations in North America, including AT&T's network in Starbucks, and nearly every airport.
You look mah-vel-ous
The 3G diet requires a little planning, a little sacrifice, and a lot of data calorie counting. But the extra money in your pocket makes up for a bit of obsessive behavior.
[Glenn Fleishman, an editor at TidBits, writes constantly about Wi-Fi and networking. His latest book, due out in late May, is Take Control of iPad Networking and Security.]
[Updated 11:25 a.m. PT, 5/12, to clarify statements in the "Turn off Push" section.]
Apple iPad Tablet Computer
Apple iPad Tablet Computer