Editor's Note: The following article is reprinted from the Today @ PC World blog at PCWorld.com.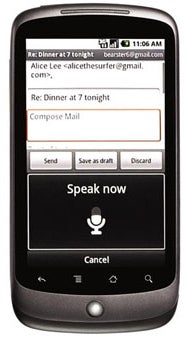 Sprint is following in the footsteps of Verizon, by backing out on its promise to carry the Google Nexus One on its network, and replacing the smartphone with a newer, flashier sibling. Still, it's not all bad news for Google or Android.
In mid-March, Sprint announced that it would carry a CDMA version of Google's Nexus One smartphone sometime later this year. But on Monday, Sprint said that it would not support the Nexus One, making way instead for the upcoming HTC EVO 4G smartphone.
A CDMA version of the Nexus One for Verizon also fell off the table recently, with the carrier instead opting to sell the Android-based HTC Incredible this spring. Now, the Nexus One remains available only for T-Mobile and AT&T's GSM networks, or in an unlocked version for $529.
Nexus One vs. HTC Incredible vs. HTC EVO 4G
The HTC Incredible, due on Verizon, sports a slightly different design than the Nexus One, and features an optical trackpad and HTC's Sense user interface. The HTC EVO 4G has a larger display then the Nexus One, runs on Sprint's 4G WiMAX network, and also features the HTC Sense UI.
The main advantage that the Nexus One has over its CDMA siblings is its direct tie to Google, which grants users a speedy OS update process; with manufacturer-altered versions of Android (like the HTC Sense UI), updates can take months to trickle down to users, if at all.
With the Android ecosystem evolving so fast, it seems natural for Verizon and Sprint to opt for newer devices to lure users, rather than carrying the Nexus One, whose reputation has been tarnished by initial 3G connectivity bugs and low sales figures.
RIP Nexus One
The only loser in this affair is the Nexus One brand, which didn't perform brilliantly in sales, and also got nixed by two major carriers for newer models. But while the Nexus One may be heading toward the end of its lifeline, the phone has managed to raise the profile of the Android operating system, which is now outselling the Apple iPhone, according to the NPD Group.
But Google or HTC are not losing: the search giant's free-to-license mobile operating system lives through the HTC Incredible and EVO 4G, and of course, the many other arriving this year.