Goober Networks, in a bid to better compete with Skype and its ilk, has announced a public beta of Goober 3.0, its unified communications application. The new version allows HD VoIP calling, multi-user video conferencing, and multi-protocol instant messaging.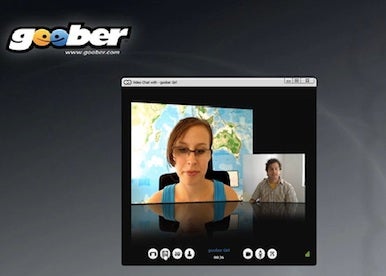 Goober 3.0 offers HD voice calls (with higher-quality audio). Rates are a little complicated: it's 1 cent a minute for landlines in the U.S. and Canada, and 1.4 cents for mobile lines. Calls to landlines in Europe are usually less than 3 cents a minute, but some areas are more, and mobile lines are 20 cents and up. Asia calls start at 5 cents, and go up from there depending on the country and type of line. The company is making a point of saying that its advertised rates tend to be lower than Skype's.
Other new phone functions in Goober include call forwarding and dial-in (which lets you receive calls from a landline or cell phone). For your iPhone or iPad, you can also download gooberVoIP, an app that allows you to make and receive calls over Wi-Fi and 3G networks.
With multi-protocol instant messaging, you can chat with friends on a variety of other networks like Google, AOL, and Yahoo. The beta supports free, four-way video conferencing, and the company plans to allow six-way conferencing in the final version of the software. Even better, Goober provides full screen video at 720p.
It remains to be seen whether Goober can pry VoIP users away from Skype, or if Apple iChat users will give this alternative a spin. The actual quality of audio and video and the ease of set-up will likely make all the difference.
The Goober 3.0 beta is free and available for Mac and PC. The first 5,000 people who download Goober 3.0 will receive a $5 voucher for making calls.