Much like the Netflix app, the free ABC Player app for iPad truly feels like the future. ABC Digital's app lets you watch recent episodes from two dozen ABC primetime and daytime shows on your iPad, without paying a cent or breaking a law. It's excellent.
If you've used Hulu, much of the ABC app experience will feel familiar. Episodes feature a small handful of commercial interruptions, usually limited to 30-second advertisements, all from a single advertiser—including one ad that runs before the episode actually begins. You can't skip the ads, and sometimes they're annoyingly repetitive (e.g., seeing the same car ad five times over a 22-minute sitcom episode), but it's an annoyance I'm willing to accept in exchange for free, on-demand episodes of my favorite shows.
If an ABC show is available to watch on Hulu, you can watch it with ABC's app, too. Different shows may employ different policies regarding how many recent episodes are available, or when they first become viewable. You can watch every single episode of Lost ever aired, but only the 10 most recent episodes of Jimmy Kimmel Live, and only the five most recent episodes of Scrubs.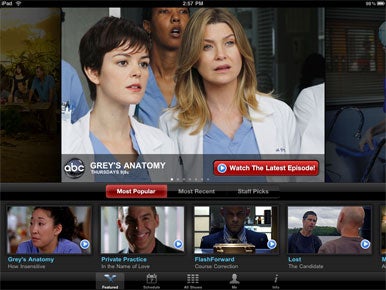 Most episodes include a "Purchase in iTunes" button, which underscores the streaming nature of the ABC app: The app only works when you're online. If you want to watch Grey's Anatomy on your cross-country flight, then the ABC app is no help at all. If you're lugging one of those even newer-fangled Wi-Fi+3G iPads, ABC Player now streams over 3G as well, thanks to a recent update; that means you can watch Lost from the beach even if there's no Wi-Fi Internet available.
I don't have a 3G iPad to test with, but I can tell you that streaming over Wi-Fi looks magnificent. The video quality is superb, and I've literally never seen the playback stutter or hiccup at all. (Dan Moren reports less impressive results over 3G in his iPad Wi-Fi+3G review.) You can even double-tap on the video to make the otherwise-letterboxed image completely fill the screen, if you prefer your Hollywood stars disproportionately stretched and cropped.
The app keeps a history of each show you watch; if you need to take a break, the player picks right up from where you left off.
ABC Player also includes a very pleasant and easy-to-navigate schedule browser. As nice as it is, though, it's a bit silly, since you can only see what's playing on ABC, and only for prime-time hours.
The app initially sported one odd design choice: All browsing within the app, whether to find a series or an individual episode, worked only in portrait mode, so you were constantly flipping between portrait and landscape modes. A recent update corrected that issue.
Usually, when I'm watching TiVo'd television, I like to multitask with my iPad in hand. But on those cases when the TV isn't available and I have unwatched ABC shows to catch up on, ABC Player works beautifully. I eagerly await a true Hulu app encompassing more shows from more networks. And when it arrives, I hope it works just like ABC's app does today.
[Keep up with Macworld contributor Lex Friedman on his blog.]