With the ready abundance of task management apps available in the App Store, it's easy to get lost in the shuffle of things, jobs, and dates being managed. Today Todo Pro offers a fresh approach to productivity, but learning the interface may turn out to be a task of its own.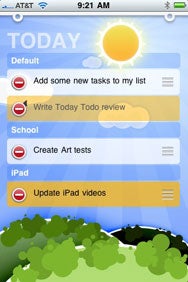 Opening the app shows a bright sun scene, with an easy-to-read list of your tasks for today. Slide your finger left across the "sun" on the top of the screen, and you go to your lists for tomorrow or "someday." Another slide to the right takes you back to today or yesterday. Note that the free version of Today Todo does not include options for future tasks, only ones for today.
You turn your phone on its side to add a new task to your list, then back to vertical to see the update. The $4 Pro version of the app from Spielhaus also includes a box that slides down from the top, allowing the creation of multiple lists (which you can switch between) and some synchronization using a Web-based client. It is a very innovative system for task organization, not like any other I have seen. Let's just say it takes some getting used to.
I had some problems with the interface as well. Swiping the sun across the top of the screen to switch from "Today" to "Tomorrow" and such requires a very precise touch, right on the little sun icon, and I often missed it when I was in a hurry. Adding a task on the Tomorrow screen does not default your task to be done the next day; instead, it's placed in the Today section. You have to change the date within the task to make it due the next day or later.
Tasks created on the "Someday" screen do get added to the someday list, but are not anywhere to be seen on the "Today" screen. So how am I supposed to dream about the future, today? I guess I should stay focused.
Today Todo Pro is a good-looking app for managing tasks, without the typical corkboard or desktop feel. It may take some adjustment if you are accustomed to more traditional planning, but if something fresh might help keep you on track, the app may be worth a try.
[ Jeff Phillips is an educator, photographer and technology advocate. Find him on his blog or podcast.]