At a Glance
Expert's Rating
Pros
Interface similar to other CS5 programs.
Approachable for those new to audio editing.
Good noise filtering and collection of effects.
Cons
Saves can take several minutes.
Very little has changed since the last version.
Multi-track view offers limited options.
Our Verdict
When you think Adobe, the first thought unlikely to pop to mind is audio. And yet Adobe continues to include its Soundbooth audio editing application in the Creative Suite 5 Production Premium and Master Collection bundles and sells the application separately for $199. Compare the latest version of Soundbooth with its predecessor, however, and you can be excused for thinking that audio is not among Adobe's priorities. Soundbooth CS5 is a meager update that fails to address the application's most glaring shortcomings.
What's old and new
Soundbooth CS5 is so little changed from the CS4 version that you'll get a perfectly good idea of how the program works from my Soundbooth CS4 review ( ) and the Soundbooth CS3 review ( ) that preceded it. In a nutshell, Soundbooth is a multi-track audio editor made up of multiple, dockable panels for editing audio and manipulating effects, markers, scores, and metadata. Its design very much reflects the look and feel of other Creative Suite applications.
What's good about Soundbooth is still good. The interface is approachable enough for those with little audio editing experience. It provides a useful collection of effects and helpful noise filtering. Those who need canned background music will find it easy to piece together Soundbooth's scores. And its volume matching feature (where it attempts to balance the volume between multiple sources) works well.
But its new features are underwhelming. You can now more easily resize the display of tracks in Multitrack View by dragging track dividers, making it easier to focus on editing a particular track in context by enlarging its view. Adobe's Resource Central offers additional sound effects (6,000) and soundtracks (130). And once you've downloaded sounds effects or soundtracks from Resource Central you can drag them into your project directly from the Resource Central tab.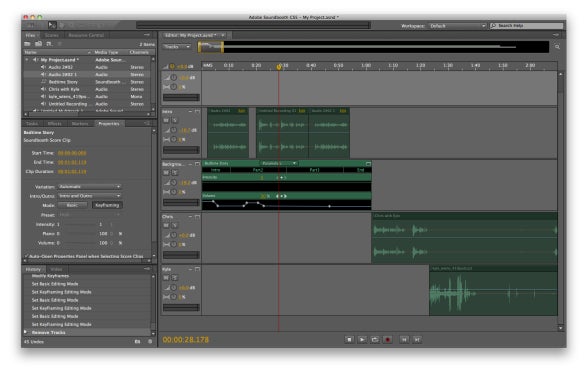 Left hanging
This short list of improvements would be understandable if Soundbooth was close to perfect in every other way, but it's not. I wrote these words in November, 2008:
To do much more than add fades, adjust volume, cut and paste entire audio tracks, and reposition tracks in the timeline, you must open the track in a separate edit panel. Once this panel is open you can then add markers and effects to the track, cut and paste portions of an audio track, and ask Soundbooth to transcribe audio to text.
Many Soundbooth users will likely find the inability to perform these kinds of tasks while simultaneously viewing all other tracks confusing. For example, unless you move to this edit view you can't modify effects you've added to a track. Why make users take an extra step to do this? Moreover, you can apply markers only when you're editing an individual track, and once you've imposed markers, you see very little evidence of them in multitrack view. Although you can navigate through markers when viewing the entire multitrack project using the keyboard, it would be nice to be able to see the names of your markers in the timeline and Markers panel when you have the multitrack view open. Other audio editors work this way and Soundbooth should as well.
Now, in 2010, many of these omissions remain. Yes, you can now split clips in the Multitrack View as well as drag portions of those clips to other tracks, thus making this view a bit more flexible. But Soundbooth still demands that you spend far too much time moving to a track's edit view to perform tasks that other audio editors allow you to do while viewing other tracks—adjusting effects and working with markers, as previously mentioned, for example. And, as with the previous version, files take a long time to save in Adobe's audio project format.
The continuing lack of marker names in the timeline is puzzling. If you're editing an audio-only project—one where you don't have the benefit of movie frames to indicate where you are in time—it's vital to have markers that indicate key points in the project so that you can easily move between these points. And these markers do you very little good when they're buried in an edit view. I understand that Soundbooth is intended to work in league with such video-centric applications as Flash, Premiere, and After Effects rather than serve as a professional audio editor's primary tool, but hobbling the application by confining important functions to the edit view makes little sense.
Macworld's buying advice
If you receive Soundbooth as part of a CS5 suite that you need for other tasks, you'll find it to be a capable application that can be operated by those with limited audio-editing experience. If you're considering upgrading to the current version from Soundbooth CS4, don't bother. There's not nearly enough new here to justify the purchase.