Dr. Seuss's ABC is a spectacular adaptation of the classic board book for small children. Oceanhouse Media has faithfully reproduced the text and graphics (which are stunning on the iPad).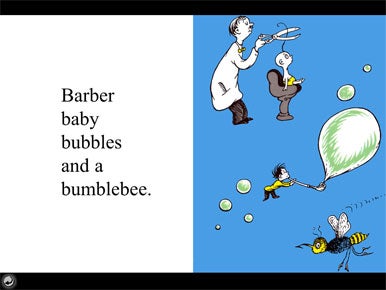 The $3 hybrid app includes three reading options: A "Read to Me" option enables a child to turn the pages but has a pleasing female voice reading the text (and reading out individual words, or describing pictures, when they're touched. A "Read it Myself" option allows a child to do just that, but also reads words when they're touched. "Auto Play," the third option, does all the work, including turning the pages (which in the first two options works with a page swipe.
Delightful sound effects round out the app, which works the same on the iPhone as it does on the iPad, and uses the full screen resolution of the iPad.
[Jeff Merron is a freelance writer and editor living in North Carolina.]