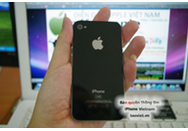 To paraphrase Oscar Wilde: "to lose one iPhone prototype may be regarded as a misfortune; to lose two looks like carelessness." And yet, if pictures from a Vietnam-based Apple fan site are to be believed, that's exactly what's happened.
The pics, which surfaced on Website Taoviet.vn—which is offline as of this writing—show what appears to be a device that bears marked similarities to the next-generation iPhone prototype that tech site Gizmodo acquired last month. If anything, Taoviet's version may be closer to a production device, as Engadget noticed that it lacked the pair of screws around the dock-connector port. In addition, while the back of the unit still largely has placeholder information, it does list a 16GB capacity—Gizmodo's unit displayed only XXGB.
Taoviet also disassembled the device, yielding what may be the same Apple-designed A4 processor that lives inside the iPad, though the markings on the chip don't exactly match up. The image also displays the N90 moniker that Gizmodo's unit bore and that Daring Fireball's John Gruber confirmed as the next-generation iPhone's code-name. In addition, the device appears to use the same micro-SIM card as the iPad, and features the same LED camera flash as the unit Gizmodo had.
It's unclear exactly how Taoviet came by the device, though one translation suggests they paid roughly $4,000 for it.
With this second unit seeming to confirm what we've already seen, some might wonder if Apple's element of surprise for the next-generation iPhone has entirely dissipated. For my part, the iPhone hardware is arguably the least interesting part of an admittedly very interesting package: what makes the iPhone compelling as a device is how the hardware and software work together. While we've seen a preview of iPhone OS 4.0, Apple's clearly keeping under wraps how any of the next-generation iPhone's apparent features—the front-facing camera?—will be used in software.
That said, unless Apple is going to pull one heck of a switcheroo, it seems pretty likely the next-generation iPhone's hardware isn't going to surprise anybody when Apple eventually announces it.