Editor's Note: The following article is reprinted from the Today @ PC World blog at PCWorld.com.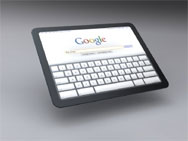 Verizon and Google are working on a tablet that will compete with Apple's iPad, Verizon CEO Lowell McAdam told The Wall Street Journal. McAdam didn't provide much in the way of device specs, pricing, or even a launch date, but the Verizon chief's statements have inspired speculation about a potential rival to Apple's iPad.
But with so little information available about this device, many questions remain—including whether or not it will ever see the light of day. With that in mind, here are five things to consider while we wait for more information about the Verizon-Google tablet.
Why isn't Google talking?
So far, Verizon is the only partner talking openly about a possible Google-Verizon tablet. CEO Lowell McAdam told The Wall Street Journal that Verizon was working with Google on the tablet as part of a "deepening relationship" between the two companies. Later, Bloomberg News quoted a Verizon spokesperson confirming the tablet project, and said more details would be coming later this week. However, Google has not made any public comments—not even a confirmation that it's working with Verizon on a tablet device, or that it will be making an announcement later this week. Nothing. Perhaps Google is just sticking to an internal no-comment policy when it comes to product development, or maybe…
Is it a plot?
An interesting theory put forward by Silicon Alley Insider is that the whole Verizon-Google Tablet is a false product cooked up by the carrier to get a sweeter deal from Apple in current negotiations to bring the iPhone and iPad to Verizon. Of course, this theory assumes that Verizon and Apple are in negotiations over the iPhone and iPad, which at this point is still just a rumor. Nevertheless, it's an interesting theory.
Who would make the Verizon-Google tablet?
The Verizon-Google tablet would supposedly run the Android OS, according to Bloomberg News. That suggests either HTC or Motorola would be the most likely candidates to produce the device since these two companies are the leading Android manufacturers on Verizon's network. Interestingly, this is not the first time Motorola has been associated with an Android tablet. In December, photos leaked online showed an Android-based MID device from Motorola with a 3.7-inch screen, 5 megapixel camera, and 3G connectivity.
But in January, Verizon used a version of Innovative Converged Devices' Android-based 7-inch Ultra tablet to test the carrier's 4G LTE network . So perhaps Verizon's familiarity with that device will prompt the company to adopt ICD's handiwork.
How far will Verizon's influence go?
If Verizon wants a tablet for its network, what would the pricing and technical details be? Would Verizon sell a subsidized version with a two-year data plan, similar to the Mi-Fi ? Would the device be locked into a Verizon-only App Store or would it be free to use Android's Marketplace like the Motorola Droid can? Also, what kind of connectivity would the device have: Wi-Fi, 3G only (like the Kindle), 4G?
What will we find out later this week?
A Verizon spokesperson reportedly told Bloomberg News that the carrier would be releasing more details later this week. So what will Verizon announce? Does it have a product ready to go, or will Google and Verizon simply be announcing a partnership agreement of some kind? According to Verizon, we should find out in the next few days.