Editor's Note: The following article is reprinted from Macworld UK. Visit Macworld UK's blog page for the latest Mac news from across the Atlantic.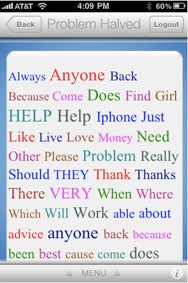 Coventry's best known binman Rob Shoesmith has updated his iPhone app Problem Halved. Shoesmith gained interest from local and national TV and radio, newspapers and magazines when Problem Halved hit the App Store in August 2009.
Rob Shoesmith of Whitley developed Problem Halved with the help of MEDL Mobile, a company that builds iPhone applications, and encourages development with an App Incubator scheme.
The application aims to allow people from around the world to give suggestions to help solve problems. Users can post a problem or answer a problem, or do both, as the application suggests a problem shared is a problem halved. Available for $3, Problem Halved 2 promises a new sleek design, the addition of national flags/country of origin to see whose posting where, thread-style posting, with the ability to respond to a problem or a solution and share features including via email, Facebook and Twitter.