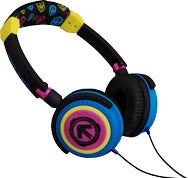 Design conscious headphone maker Aerial7 has announced a new line of DJ grade headphones—the Phoenix. These solid but compact headphones feature a fully collapsible frame and padded headband for extra comfort. While not as bulky as larger, studio-grade headphones, these mid-size cans are designed to offer comparable sound, and feature a 44mm driver that should cover your low end frequencies admirably.
The Phoenix's ear cups swivel so you can monitor your mixes with one ear—a common DJ tactic—and the headphones have a built-in microphone you can use with your iPhone. Aerial7 will even include a Skype adaptor so you can make VoIP calls on your Mac. The Phoenix uses an iPod-friendly 1/8-inch plug, but a 1/4-inch adaptor will be included for use with pro audio devices.
The headphones will be available starting in July for $60 in four different color schemes, ranging from black (Eclipse) to eye-catching neon designs called Chino, Citron, and (pictured) Storm. The Aerial7 Website hadn't been updated with information on the Phoenix line when this story was posted.