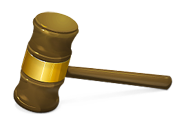 They say all is fair in love and war, and the increasingly bitter rivalry between Apple and other smartphone manufacturers is most certainly descending into a war of the litigious variety. HTC on Wednesday announced that not only has it complained to the U.S. International Trade Commission that Apple is infringing on its patents, it's asking for a U.S. import ban of iPhones, iPads, and iPods.
In its announcement, HTC claims that Apple has infringed on five of its patents, though it doesn't specifically mention which ones. HTC's North American vice president, Jason Mackenzie, sidesteps the details by citing the company's long involvement in the mobile space: "As the innovator of the original Windows Mobile PocketPC Phone Edition in 2002 and the first Android smartphone in 2008, HTC believes the industry should be driven by healthy competition and innovation that offer consumers the best, most accessible mobile experiences possible."
It is important to note, however, that while HTC's headline says that it is suing Apple, the actual announcement only mentions that it has filed a complaint with the ITC; there's no mention of a lawsuit.
HTC was certainly not unprovoked. Apple fired the first volley back in March, when it sued HTC for infringing on 20 of its iPhone-related patents. Apple is also doing the lawsuit shuffle with Nokia, as the Finnish phone maker took aim at Apple in December, 2009 and Apple returned fire a month later. Between those two claims, both Nokia and Apple asked the ITC to ban the import of each other's pocketable gadgets. Nokia also launched a second lawsuit against Cupertino last week.
Nor is Apple the only mobile operating system developer to wade into legal waters—Microsoft joined the fray last month, though it eschewed a lawsuit and entered into a licensing agreement with HTC for some of the phone manufacturer's patents. That's little surprise, though, given the two companies' long-standing relationship. Microsoft, it seems, was happier than Apple to make peace, not war, with HTC.