Because of the ubiquity of Bluetooth headsets, we're used to seeing people walk around talking (seemingly) to themselves. So no one would look askance at you if you were to, say, start talking to your iPod—which means you should have no qualms about taking advantage of the Voice Control feature in the iPod touch (3G, late 2009) and iPhone 3GS to tell your iPod what you want to listen to.
The Voice Control feature lets you use the included Apple earbuds with remote and mic (or compatible earbuds or headphones) to tell your iPod or iPhone what to do: what to play, when to change tracks, and when to shuffle. On top of that, the iPod touch can talk back, telling you the names of tracks that are playing if you're not sure what you're listening to.
Talk it up
To activate Voice Control, press and hold the center button on the remote for about three seconds, or press and hold the Home button on the iPod or iPhone. You'll hear a beep in the earbuds, and the Voice Control screen show up on the display.
This screen doesn't stay visible for long, so you only have a few seconds to issue a command. You can tell your iPod or iPhone to play something for you. For example, say "play" then either "album," "artist," or "playlist," followed by the name of that item. For example, if I say "play playlist Beatles," my iPod tells me it's going to play my Beatles playlist, then starts playing the playlist.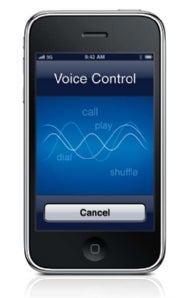 If I say "play artist Grateful Dead," it plays songs by the Grateful Dead; it plays tracks chronologically, by album (alphabetically). Although it worked that way just fine for me, one Macworld editor had some issues with a stray album playing out of order.
If I want to play an album, such as U2's The Joshua Tree, I just say "play album The Joshua Tree." Note that you can't tell it to play audiobooks, podcasts, or iTunes U content, nor can you tell it to play individual songs.
The voice recognition is fairly good—it's just doing a best match for what's on the iPod, and you have to preface the names you say by keywords (album, artist, or playlist), which limits the number of possible matches. At the same time, you'll definitely encounter some mistakes. You need to speak an artist's entire name, which can be bothersome with long names. And it's not very well suited to classical music: I asked my iPod to "play artist Quatuour Ebène," and it replied "playing songs by Leftover Salmon." (The feature doesn't support all languages; you can look at Apple's Voice Control pages for the iPod touch and the iPhone for a list of supported languages.)
You can even use Voice Control in noisy environments, as long as you hold the mic up to your mouth; although you might not want to yell at your iPod or iPhone to play your "Sexy music for all-night parties" playlist, say. (On the other hand, this could be a new way to make new friends.)
What am I listening to?
When I'm listening to music and don't know exactly what I'm hearing, I can ask my iPod touch to tell me. I just say, "what's playing," or "what song is this," to hear the song's name followed by the artist's name. This interrupts what you're listening to, of course; when you press and hold the button on the earbuds, the music fades as the voice control feature comes in.
Become a genius
If you want to make an instant Genius playlist, you can also say "Genius," "play more like this," or "play more songs like this." This whips up a Genius playlist from what's on your device, and starts playing the "based on" song again. As with other commands, the monotonous voice on the iPod or iPhone tells you that it is "playing Genius playlist based on song name by artist name."
Playing with playlists
You can do a bit more, such as shuffle the current playlist (say "shuffle") and skip ahead or back ("next song" or "previous song"). You can also pause the music ("pause"), but I've found this to be unreliable. However, there's really not much use for these commands, other than shuffle; since you can pause by just pressing the center button on the remote, and skip to the next song by pressing it twice quickly, it's a lot more work to invoke Voice Control for these features.
The big question: Why?
So why and when would you want to use this feature? If you're out running, walking, or cycling, or if you're exercising at the gym, you may not want be able to access your iPod touch and press its buttons. Or if you're visually impaired, this can be a big help. Even if you're just walking and your iPhone is in your pocket or purse, it could be easier than pulling it out on the street. In fact, it would be good if Apple added this to other iPods, particularly the iPod nano, which is better suited for use during physical activities. If you try this feature out, you may find it to be very useful.
[Senior contributor Kirk McElhearn writes about more than just Macs on his blog Kirkville.]
64GB iPod touch (3G, late 2009)
Price When Reviewed:
$380.87