The Iconfactory's Twitterrific for iPad, a free Twitter client for the iPad, was updated to version 1.1 late Wednesday. This new version should be available shortly on the App Store.
Among the new features in version 1.1 are support for uploading media files, a feature that wasn't present when the app arrived in the App Store on day one of the iPad era. (It makes a lot more sense now that the iPad Camera Connection Kit is available.)
The app can upload photos and video via yFrog, TwitPic, Twitgoo, img.ly, TwitVid, Posterous, as well as custom upload services such as gdzl.la using the same settings and protocol used by Tweetie 2 on the iPad.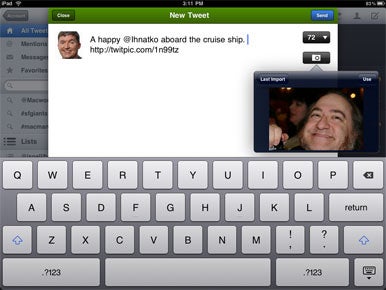 The new version also uses the OAuth protocol to authenticate with Twitter, which also increases the number of API calls the app can make to Twitter per hour. Other additions include the support for "reply to all" by default, internationalized domain names in URLs, and better handling of links containing special characters.
The app's pop-up web browser also now uses the entire width of the iPad to display web pages in landscape mode, rather than the narrow browser window offered in previous versions. Twitterrific developer Craig Hockenberry says the extra width is part of a workaround that allows video to play properly in the browser.
As with the original version, the app works with a single Twitter account and displays small advertising tiles. A $5 in-app upgrade adds support for multiple accounts and removes the advertising.