I won't lie to you: installing Animal Hide and Seek Adventure HD on your iPhone or iPad is a dangerous decision. While you will remain the nominal owner of said device, you will forever be subject to the incessant nagging of your children who want to play the game. You've been warned: Awesome Giant's Hide and Seek is a safe, fun and well-developed game that will keep your toddlers and pre-schoolers busy and entertained. Adults are also likely to enjoy the app much more than they let on, too; so you might as well go out and buy a new iPad or iPod Touch now.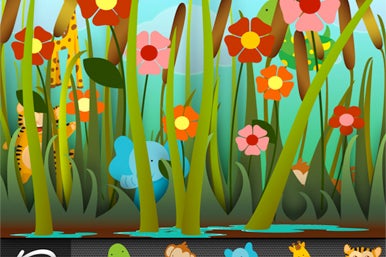 The game is both simple and intuitive: you—well, your child—has to find all the animals as they hide behind various objects in a series of scenes with three underlaying themes: the jungle, the ocean and the circus. The player taps on the animal to "find" them in each scene. The game has no point system, which is just as well because its intended audience is probably too young to understand the concept of score. All the scenes—there are twelve in total—are accompanied by catchy music and beautiful animations that look particularly crisp and smooth on the iPad.
More importantly, while always remaining within the grasp of a young mind, the game is genuinely challenging; thus, it never feels patronizing, nor does it frustrate the little ones by being too difficult (the game's help functionality also comes in handy with the really tricky finds). In short, your child is guaranteed plenty of safe entertainment that will not drive you insane with repetitive music or challenges that are above your child's head. The only thing that could be done to improve this game is adding more scenes so that my four-year-old daughter can stop asking me for them.
[Marco Tabini is a frequent contributor to Macworld.]