Apple late on Wednesday announced a new beta program for the mail component of its MobileMe internet service. The new beta offers new interface views, server-based mail rules, SSL-based security, and improved performance, according to the company.

To access the beta, MobileMe subscribers will need to sign up first. To sign up, visit www.me.com/mail and click the "Request an invitation" link in the lower left corner. Users will receive an e-mail notification once they've been added to the beta.
The mail rules feature will allow MobileMe users at last to filter mail into separate mailboxes in advance of downloading them to your devices. A new Archive button allows users to file selected messages to an archive folder with a single click. (These are areas in which MobileMe's mail has notably lagged behind Google's free Gmail service.)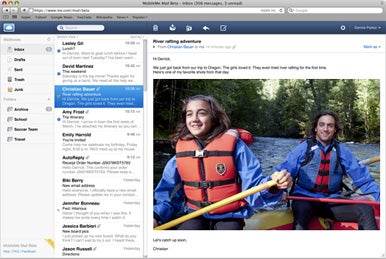 According to Apple, the new beta features two new views in the service's web interface, widescreen and compact. A new formatting toolbar in the web interface lets users format mssages quickly and shorten long URLs. The web interface should also load the Inbox and individual messages faster, and will allow users to scroll through the entire Inbox without clicking to load a next set of messages.
Now the fine print: Apple says the beta is available in English only, so only users of the English-language version will be able to request a beta invitation. Users don't have to sign up for the beta and can opt out of it at any time. Apple will also be collecting beta feedback via a link below the mail-folder list on me.com. Apple has also posted an FAQ file about the beta.