As the publishing industry struggles to figure out how it will thrive on the iPad platform, Vanity Fair has joined the ranks of magazines offering their own issue-based apps. The June issue is now available for both the iPad and iPhone in the App Store for $5 (the same as the cover price of the print edition). Future issue apps will be $4.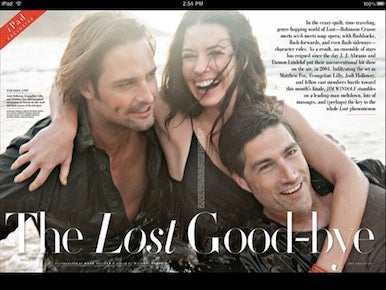 Time and Popular Science are among the notable publications selling issues as apps that you must purchase individually. There is no subscription package, and print subscribers don't get a price break. Readers have complained about the high cost of a single issue, but magazine publishers say they are providing content and interactivity that goes beyond what readers get in the print issues.
In the June issue of Vanity Fair, for example, readers can take advantage of extended versions of the stories on Emma Watson (one of the stars of the Harry Potter movies) and on the TV show Lost; both of these extended versions include additional photos and videos.
Vanity Fair's app also offers a different experience depending on whether you're viewing the issue in landscape or portrait mode. In landscape, you see the magazine in its traditional format with articles laid out exactly as they appear in print, and with the same ads. If you hold your iPad in portrait mode, you'll find images at the top of the screen and text at the bottom; you'll also see a different set of ads, including some with video.
These kinds of experiments on the iPad platform will certainly grow, and publishers are no doubt counting on readers (and advertisers) flocking to the new medium. But without a better subscription and delivery model, issue-based apps may remain a niche product. After all, who wants a separate, non-searchable app for each issue of every magazine they want to read?
[via the New York Times]