At a Glance
Expert's Rating
Pros
Lots of feature refinements.
Easier proportional scaling.
Includes Adobe Swatch Exchange import and export.
FXG 2.0 export.
Smoother gradients.
Compound Shape tools.
Better performance.
Our Verdict
Amidst the hubbub surrounding new features in other Adobe CS5 applications—such as perspective drawing in Illustrator, puppet warp in Photoshop, and multiple page sizes in InDesign ( )—it's easy to overlook the fact that Fireworks CS5 is also new. Although similar "killer" features weren't bestowed upon this vector and pixel Web and mobile graphics editor, Fireworks did get plenty of attention in the form of numerous, customer-driven refinements and fixes.
Vector polish
Formerly a complicated process that involved menu commands and dialog boxes, the important task of proportionately resizing objects using accurate numeric values has been made as simple as can be in Fireworks CS5. Now, you just activate the new Constrain Proportions icon on the Properties panel and a change to an object's height or width adjusts the other dimension commensurately.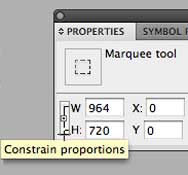 Similarly, the way to control whether a stroke aligns to the inside, outside, or center of a path is no longer buried; just click the appropriate stroke alignment button on the Properties panel. Most stroke properties can now be set directly from the Properties panel. A new Properties panel button offers instant access to the Edit Stroke dialog so that you can design that perfect custom stroke quickly—and you can save custom strokes for later application to other objects.
New Compound Shape tools in the Properties panel enable you to quickly build complex shapes from simple ones, and to work with multiple shapes as a group while still maintaining access to their individual paths.
Type handling, which received a major overhaul in Fireworks CS4, continues to be improved in CS5. Minor features that entail a major efficiency boost include: pasting editable text into Fireworks from Illustrator and Microsoft Office; a visual indicator when text is overset; keyboard shortcuts to adjust tracking and kerning; an undo for text edit changes; and more. There were several improvements to text selection functionality as well, including: non-contiguous text selection; triple-click to select an entire paragraph; quick selection of text with the same attributes (for example, all red text or all bold text at the same time in a text block).

Other enhancements
Gradients received a welcome upgrade, too—dithering. Color banding has been a common problem with linear gradients in Fireworks. Now, in CS5, simply activate the new Gradient Dither control on the Properties panel to smooth the transition between colors in a linear gradient, virtually eliminating banding. A new Reverse Gradient button quickly inverts your gradients, swapping start for end.
Multi-page PNG files are now easier to work with, beginning with the ability to preview each page individually without opening it. You can also insert pages from one multi-page Fireworks PNG into another, which makes it easier to build customized designs that incorporate static, re-useable content.
The new document templates included with Fireworks CS5 are also worth a look. Even if you don't want to use the included designs or pick apart the templates to see how various effects were achieved, you'll love the fact that all the measurements have been figured out for you in various Web and mobile user interfaces and wireframes. You can also save your own templates to share with others.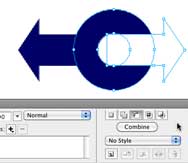 Performance is significantly enhanced with this release as well. I found CS5 to be an average of 20 percent faster than CS4 in performing complicated tasks on large files. Fireworks CS5 also launched much faster than CS4, both from clicking the dock icon as well as dropping PNG files onto the dock icon.
Suite integration
With each successive release of Fireworks, its integration with other Creative Suite applications gets tighter. Fireworks is generally not an application that stands on its own: rarely do designs begin and end within Fireworks. On the contrary: most Fireworks users begin working in Illustrator or send their Fireworks designs out to Flash or Flex as mobile app user interfaces.
In this version, Fireworks can now create—and even better, open—Adobe Swatch Exchange (ASE) swatch files created by Illustrator, Photoshop ( ), or even InDesign and Kuler, which enables consistent color across all the components of a multiple-application design or project.
Of even greater use to user experience designers is the new FXG 2.0 format export. Using this format, objects or an entire design—including multiple pages—can be easily sent to Flash Catalyst ( ) for added interactivity and functionality. In fact, because Illustrator CS5 ( ) also works with FXG files, it's entirely possible to begin a user interface design in Fireworks, move it to Flash Catalyst, and then touch up the design further in Illustrator.
To preview your Fireworks artwork as it might look on a particular mobile device, simply open it in Adobe Device Central, which simulates a variety of devices. You can also begin a design in Device Central by creating a new document in Fireworks based on the dimensions of a selected device profile.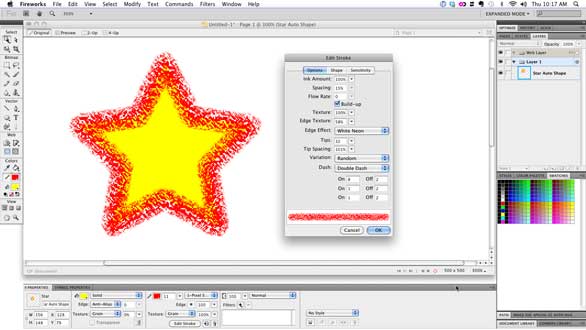 There are also Photoshop integration improvements in this new version of Fireworks. You can force flattening of Photoshop adjustment layers when importing PSDs, which you can enable and disable in the Preferences. Hue, saturation, and color blend modes and the Hue/Saturation filter in Fireworks now use the same algorithms as Photoshop to improve color fidelity and appearance. And imported editable gradients from Photoshop now match better in Fireworks.
Macworld's buying advice
While there are no new headliner features in Fireworks CS5, don't let that fool you. Fireworks CS5 contains an abundance of much needed feature refinements and upgrades, primarily accessible via the Properties panel. The expanded cross-application integration alone makes it a must-have for the software's core market—mobile and Web user interface designers.
[ Pariah S. Burke is the author of Mastering InDesign for Print Design and Production, and other books; a freelance graphic designer; and publisher of the Web sites, GurusUnleashed.com, WorkflowFreelance.com, and CreativesAre.com. Pariah lives in Portland, Ore.]