Marco Arment's Instapaper app, a mobile client for the Instapaper Web service, has been one of our favorite iPhone and iPod touch offerings since its debut. If you haven't heard of Instapaper, the service lets you save online articles for later reading using a special browser bookmarklet. ( A number of iPhone apps even include a feature to save URLs directly to Instapaper with a tap.) Visit the Instapaper Website, and you can read any of your saved articles, reformatted to be easier to read with no annoying Flash ads or other distracting clutter.
But the Instapaper iPhone app improves on this experience notably: launch the app, and it automatically downloads all your saved articles—up to 250 of them—for offline reading in an interface optimized for your portable device. And starting with the release of version 2.2.2—the app is at version 2.2.3 as of this writing—Instapaper Pro includes a native interface for the iPad, as well. (Note that Instapaper Free, a feature-limited version of the Instapaper app, doesn't provide an iPad-native interface.)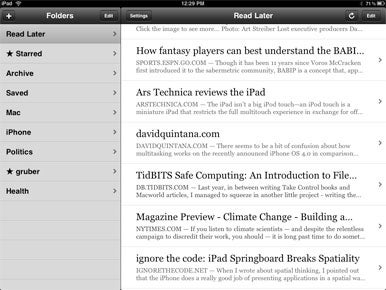 As with earlier iPhone-only versions of the app, Instapaper Pro lets iPad users adjust article line spacing and margins, and change the font and font size on the fly. There's also a dark interface (gray type on black background) for easier night reading, an ever-so-useful rotation lock, and multiple methods for navigating articles: traditional scrolling, accelerometer-based tilt scrolling, and a pagination mode that lets you tap the edge of the screen to "turn the page." The app also remembers your location in articles between launches, and an in-app dictionary feature lets you look up Wiktionary's definition of any word as you read.
From within the app, you can create and manage folders for filing and organizing articles; those actions are reflected in your account on the Instapaper site and on any other iPhones and iPads on which you're using the app. You can also share articles in several ways: via Tumbler and Twitter accounts, and by "starring" your favorite articles. Any user can add another user's starred items as a folder to have such articles automatically added to their own account.
But much like the iPad's version of Mail compared to Mail on the iPhone, Instapaper Pro on the iPad takes good advantage of the larger screen to make using the app more enjoyable. Obviously, much more text can fit on the screen, reducing scrolling and page-turning when reading saved articles. But browsing articles is also easier on the iPad. Whereas on the iPhone your folder list, a folder's contents, and an article view each occupy the entire screen, the iPad's larger screen lets you view multiple items simultaneously: In portrait orientation, the Folders list is a popover menu, much like Mail's Mailboxes view, and in landscape mode, your list of folders is always visible in a column on the left, with either a selected folder's contents or the selected article displayed to the right.
You also get a few additional features on the iPad, such as an in-app brightness control and more font options (six fonts, compared to only three on the iPhone). But one of my favorite iPad-only tweaks is subtler: in tap-to-turn-the-page mode, text is always displayed within the margins, but with scrolling enabled, text at the top and bottom edges of the screen fades slightly, providing cues that you can scroll. It's a minor detail, but it really adds to the reading experience.
For heavy consumers of online content, like me, the Instapaper service is a stellar option for reading lengthier articles; I consider it a must-use. And Instapaper Pro on the iPad has become my favorite way to read and manage my Instapaper-saved articles.
[Senior editor Dan Frakes reviews low-cost Mac software in the Mac Gems blog.]