Tapulous, of Tap Tap Revenge fame, has released a fast-paced music racing game called Riddim Ribbon. Riddim Ribbon (that's a play on "rhythm," for those of you who are scratching your heads) features popular tracks by the Black Eyed Peas and offers a new twist to the whole RockBand genre—depending on what path you take, you can remix the song a variety of ways.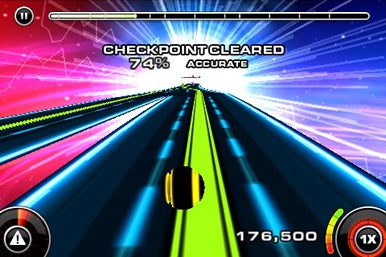 The goal of the game is to, well, effectively remix Black Eyed Peas' songs. Using the accelerometer, you tilt your iPhone back and forth to keep your ball on the "ribbon," a colorful stripe down the race track (the race track is a floating strip in space, similar to the Rainbow Road track on Mario Kart—luckily, you can't fall off of this one). Along the way you collect silver balls for accuracy points, jump through hoops (sometimes there's a ramp that propels you into the hoop, other times you have to tip your iPhone forward to jump on your own), and try to make it to each checkpoint alive. Once you complete a level with 80 percent overall accuracy, the harder version of that level is unlocked.
There are multiple paths to choose from in each level—left or right will net you different remixes of the songs, and going up onto a higher track (a detour you can take) will have a special remix. No choice is better than the others—it's up to you, as you're the DJ. You get three free levels with the original download—"I Gotta Feeling," "Meet Me Halfway," and "Boom! Boom! Pow!" by the Black Eyed Peas. Additional songs (by Tiesto and Benny Benassi) can be purchased.
Like other RockBand-type games, if you crash or go off the path, the music slows down and goes off-tune.
Riddim Ribbon is more fun than I thought it'd be—the colorful graphics are a perfect complement to the songs, and, well, I love the Black Eyed Peas. The controls took a little getting used to—it's not as responsive as I'd like it to be, and you sometimes have to tilt pretty far to stay on the path. The other issue is that you only get three songs for free—however, you do get three different levels for each of the three songs, and you can potentially remix them many different ways. You also receive a free iTunes download of a never-released-in-the-US remix of the Black Eyed Peas' "Meet Me Halfway" with the game download.
For just $2.99, this is a great deal—additional songs are $0.99 each, and only feature "Medium" and "Hard" levels, but the included tracks will probably keep you busy for awhile.
[Sarah Jacobsson is a frequent contributor to Macworld.]