At a Glance
Expert's Rating
Our Verdict
Way back in 2004, I covered Ejector, a menu-bar utility for quickly ejecting any mounted volume. While it's easy to eject such volumes from Finder-window sidebars or the Desktop, not everyone chooses to show all volumes in those locations. And if you've got lots of windows open, or you're working in another program, ejecting volumes can require switching to the Finder, using Exposé, or both. By giving you a simple menu-bar icon that, when clicked, displayed a list of mounted volumes, Ejector made ejecting/unmounting volumes simple and convenient—you just chose a volume from the menu and it was immediately ejected.
After Ejector began having problems in more-recent versions of Mac OS X, I wrote about Semulov, a similar utility that provided some additional functionality. Alas, I had issues with Semulov under Leopard and Snow Leopard—and apparently so did other people, judging by the number of requests I've received for a Snow Leopard-compatible alternative.
Which leads me to today's Gem, Volumizer 1.3.3. Like Ejector and Semulov, this preference-pane add-on provides a systemwide menu that displays all mounted volumes: hard drives, flash drives, optical discs, network volumes, disk images—anything that you can mount in the Finder. Mouse over a volume name and choose the Eject option that appears to eject (unmount) the volume. If a physical drive has multiple volumes (partitions), choosing Eject for any one unmounts all of them immediately—you don't have to deal with the Finder's "Do you want to eject all volumes on this disk?" dialog. (Although this feature is convenient, I wish there was an option—say, by holding down the Option key when choosing Eject—to unmount just one volume on a multi-volume disk.) Of course, you can't unmount the startup disk, but all other volumes are fair game.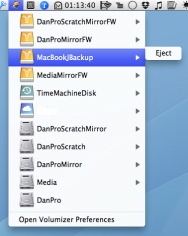 Volumizer doesn't have all the nifty extras of Semulov, but it does have a couple unique features of its own. If instead of choosing the Eject option for a volume, you choose the volume itself, it's opened in a new Finder window. There are plenty of other ways to open drives and volumes in OS X, but I like that Volumizer combines opening and ejecting in the same menu.
There's also an option to display all volumes in the Dock—on the left-hand (applications) side instead of the right-hand (documents and folders) side. Clicking on a volume in the Dock opens it, while choosing Eject from the volume's Dock menu unmounts it. If you don't have many volumes—for example, just your startup drive and temporary volumes such as backup drives, DVDs, and disk images—this feature can be quite convenient. But if, like me, you regularly have many volumes connected, it adds quite a bit of clutter to the Dock.
Two features I'd like to see are an Eject All command for quickly unmounting all non-boot volumes, and an option to display connected volumes that aren't currently mounted (letting you mount such a volume by choosing it from the menu).
Like Ejector and Semulov, Volumizer isn't necessary for everyone; it's mainly useful to people who work with lots of drives and disk images. But for those of us in that group, Volumizer is a handy solution to a minor, but frequent, inconvenience.
Want to stay up to date with the latest Gems? Sign up for the Mac Gems newsletter for a weekly e-mail summary of Gems reviews sent directly to your Inbox.