The Chronicles of Inotia 2: A Wanderer of Luone is your classic fantasy role-playing game: you are a lone hero looking for some innocent mercenary work when BAM—suddenly you're swept up in an epic storyline of demons, magical keys, and world-saving.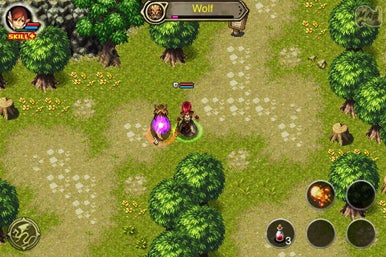 You start out in the town of Luone looking for mercenary work—you receive a few mundane missions (collecting wolf pelts, killing rats, etc.), and then the real story starts. Unfortunately, the "real story" still involves a lot of mundane missions (collecting items and killing things), which begins to make the game a bit tedious.
The game's art is anime-inspired with cartoonish faces and bright, colorful icons. But don't mistake Inotia 2 for a casual game: this is one of the deepest experiences you'll have on the iPhone.
There are five character classes to choose from: knight, magician, priest, thief, and templar. There is no archer build, and each of the builds is pre-gendered—but what can you really expect from an iPhone RPG? Controls are pretty straight-forward: you can either use the virtual d-pad, or just touch to move your character. The d-pad is pretty decent, though you will need to press the attack button (on the left side) to engage with any enemies. If you don't touch the button, your character will just stand there and be hacked to pieces. In my opinion, the touch controls are the superior setup—you can just touch enemies to engage them but you'll find it hard to control the character otherwise (your finger will likely obscure the screen).
As the storyline progresses, you get to add additional party members—a nice feature, especially as you can customize their skill-sets and equipment, and even control them by tapping their icon in the upper left corner.
In addition to the storyline, the game also features a "Match Up Mode," where you can take your party online and battle against other players and buy and sell items. It took several tries for me to get online with Match Up Mode, but once I was online the connection was solid.
Inotia 2 nets you a lot for $5.99—a full-fledged RPG and an internet multiplayer mode. There are a still a few things I'd like to see, though—namely, an archer build, the ability to choose genders, less tedious tasks, and better controls (perhaps a d-pad for moving and the ability to tap on characters to engage with them?).
[Sarah Jacobsson always plays the archer class in all of her RPGs.]