Unlike the iPhone and iPod touch, the iPad doesn't come with its own weather app. Fortunately, third-party developers are ready to fill the gap, offering a number of weather-focused offerings for your downloading pleasure. But which one deserves your attention—and your dollars? I took a look at a handful of iPad weather apps, with one in particular standing out from the rest.
The Weather Channel Max for iPad is a good app, especially considering its non-existent price tag. At first glance The Weather Channel Interactive's app appears to provide voluminous useful information: the expected weather maps with radar, video, Twitter feeds from Weather Channel personnel (and Al Roker), hourly forecasts, and a 10-day forecast.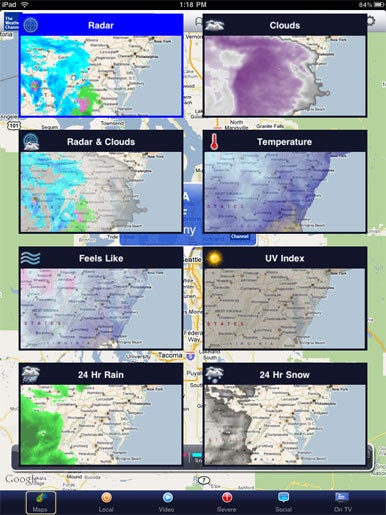 The good news is that the Weather Channel Max's primary interface is well-designed with easy-to-read text, and it provides what most people want: current conditions and forecasts for your current location and any other locations you choose to look up or bookmark.
The bad news is that the Weather Channel squanders what should be its most valuable asset—video. The app touts 100 local video forecasts, but these are not time-stamped in any way, which is why their outdated information can be confounding compared to what you see on the primary "local" screen.
For example, while my local Seattle screen told me it was 55 degrees, the video voiceover said "It's currently 49 degrees." Which to believe? In addition, the "news" videos are mislabeled: on May 7, the most recent "news" was the cresting of the Red River—on March 22. An "On TV" video button brings up five streaming Weather Channel specials—nice to pass the time, but not, as I had expected, either a Weather Channel program listing or live video feed.
The Twitter feed is more timely, and the Tweets provided, for the most part, information that weather hounds could find useful or interesting. Except for Al Roker, who tweeted, in toto, "Huh." Maybe he was looking at the app's "news" videos, too?
AccuWeather.com for the iPad is an interesting app. It has one flaw that might make it less than desirable for some users: it's slow to start up and also slow to respond when, upon tapping on the screen, it brings up the AccuWeather.com Web page for your current location. It also hangs, occasionally, when you tap "done" to close the Web page.
But AccuWeather's iPad app has some fine features, including a simple, almost bare-bones interface that is well designed and easy to read. While current weather conditions take up the top part of the screen (in portrait view), a band near the center of the screen provides brief weather news headlines that scroll from left to right.
A circular icon at bottom right of screen brings up large, scrolling icons that obscure the rest of screen; these icons lead to forecast, hourly, video, maps, lifestyle, and settings screens. This is pretty nifty, once you get used to it. Also very cool is the hourly forecast for the next 24 hours, which changes as you move a weather icon (clouds, sun, etc.) around the outside of the clock. While the icon changes, the nicely displayed temperature and conditions are displayed in the clock's center.
The radar-in-motion doesn't provide any options; it displays only precipitation, which is probably sufficient for most users. But there are some significant drawbacks: you can't zoom in and out of radar maps, for example, and you can't scroll beyond a very limited area. Videos, which include regional weather forecasts and "breaking" local weather news, are not time stamped. The "lifestyle" forecasts touted on the app's iTunes page can be puzzling: for New York one day, the forecast was only "fair" for "outdoor activities," but at the same time "excellent" for running, kite flying, barbecuing, and other activities that generally take place outdoors.
The only difference between AccuWeather.com and Accuweather.com Free, both iPad offerings, is that the free version includes a fairly unobtrusive ad at the bottom of the screen.
The interface of our final app, WeatherBug Elite for iPad, is simple and effective: a local area map takes up most of the screen, with pop-out "widgets" at top of screen for current conditions, weather cams, a 7-day forecast, 10-hour hourly forecast, National Weather Service alerts, and video. The video is, indeed, singular, providing the day's national outlook.
But that big map is where WeatherBug Elite shines: WeatherBug's app enables you to choose from many map overlays, including radar and satellite views and temperature and humidity observations. The map is very responsive: when you pan or pinch in and out to zoom in and out, the map redraws almost immediately—and the radar also adjusts very quickly. The app's radar in motion is similarly fast. This is no mean feat: the Weather Channel Max map redraw is relatively clunky.
While WeatherBug Elite provides fewer features than the other apps reviewed here, and forecasts that don't go out as far, it seemed more useful—in this case, less indeed seems to be more.
[Jeff Merron is a freelance writer and editor living in North Carolina.]