Hire Me is a well-meaning $1 iPhone app designed to help you land a job. If you are currently busy pounding the pavement, I'd recommend saving your buck and spending it on something like Doodle Jump, which can at least offer a way to blow off steam when the job hunt occasionally turns frustrating.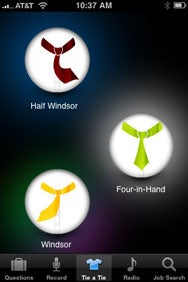 When I first launched Hire Me, I was greeted by this less-than-reassuring message: "Tap anywhere your screen to generate a interview question." That lack of attention to detail on the app's introductory screen didn't bode well, but it served as an unfortunately accurate predictor of Hire Me's overall utility.
The app's interface employs five tabs. The first tab offers random interview questions each time you tap, so that you can work on honing your responses and answering under pressure. The second tab lets you record audio of yourself reciting your answers, in theory so that you can hear yourself and judge how convincing you sound.
It's around this point that Hire Me developer Shawn Burns seemingly ran out of features to include. But to round out the tab bar, there's a tab offering three tutorial videos on tying a tie, and another tab with preset radio stations (like "jazz" and "classical") to listen to as you relax leading up to your big interview.
Finally, there's the job search tab. It includes links to numerous job hunting Websites, but the in-app browser to surf those sites is very limited; it lacks landscape mode, bookmarks, or even the ability to e-mail yourself links so that you can actually apply from your main computer.
Hire Me is an earnest attempt to help you land a job. Sadly, in spite of its good intentions, the app just isn't that genuinely useful.
[Lex Friedman shares more punditry and insights at his blog.]