Mireth Technology has released Version 3 of Music Man, an app that rips, converts, burns, and plays digital music. Version 3 adds the ability to make iPhone ringtones, and adds ID3 tag editing as well as FLAC and Apple Lossless playback.
Music Man bills itself as sort of a swiss army knife for music on your Mac, letting you rip, convert, burn and play audio files in almost any common format. You can rip audio CDs to MP3, WMA, AAC, MP2, WAV, or Ogg Vorbis, and you can also convert from any of these formats to a variety of other formats—though DRM protected files are excluded.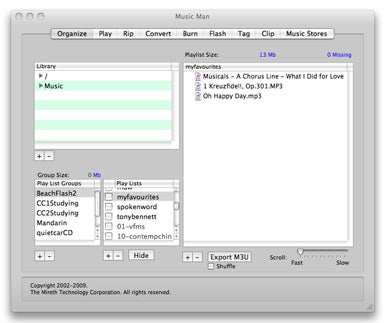 New in Music Man 3 is the ability to convert audio files into M4R format, which is what your iPhone uses for its ringtones. This allows you to turn any of the sounds on your Mac into a ringtone or alert for your iPhone. You can even edit your M4R clip to start and end with adjustable fade-ins at any point in the track.
While iTunes performs many of these same functions, Music Man supports a wider variety of file formats—FLAC and Ogg Vorbis playback, for example. It also offers an interesting "mono mixdown" feature that turns a 2-channel, stereo track into a single-channel mono mix. This feature is useful for times when it's inconvenient or unsafe to listen to music with both earbuds in—while grocery shopping or walking at night, say. Since a mono mix puts both stereo channels in the left and right tracks, you can listen with one ear and still hear the entire mix.
Music Man 3 costs $25, with upgrades available for a 25 percent discount (there's also a free trial version). It requires Mac OS X 10.3 or later.