Our look at iPad apps that deserve a place on your device started out with the best apps money can buy— 11 essential iPad offerings that are among our favorite additions to the App Store. But you don't always have to part with a lot of dough to equip your iPad with great mobile software. As with life, sometimes the best things in the App Store can be had for free.
In this second installment of our Essential Apps countdown, we turn the spotlight on nine great iPad programs that won't cost you a dime to download. As with the paid apps, we looked across a wide variety of categories—entertainment, social networking, productivity, the works—for a diverse sampling of apps that we feel deliver an experience that's unique to the iPad.
So enjoy our list, bargain hunters. And don't worry, gamers—your time is coming.
ABC Player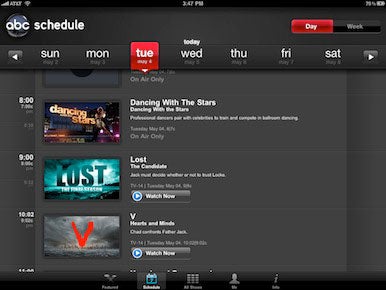 Your favorite ABC programs are never more than a tap away with ABC Player, a free app from ABC Digital ( ) that streams the network's TV programs to your iPad on demand with limited commercial interruption. Wi-Fi video image quality is as impressive as the laughs on Modern Family. The recently added ability to stream shows via a 3G connection leads to some lower quality video—compression artifacts are more visible in action sequences like in Lost, though hardly noticeable in close-ups. You won't find every episode of every show, but Featured and Scheduled views makes it pretty easy to find your favorites. Whether you missed the latest Dancing With the Stars or you want a mobile view of The View, this is a great app for keeping up with your must-watch TV shows.—James Galbraith
Epicurious Recipes & Shopping List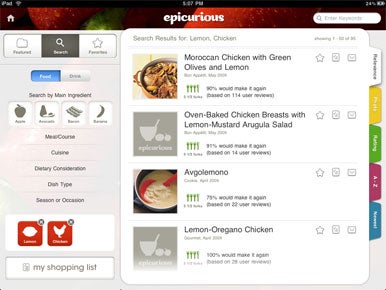 Someone needs to come out with a kitchen stand for the iPad—one that'll let you prop the tablet next to the stove yet protect it from greasy splatters. Because the iPad really could be the ideal kitchen computer—especially if it has the free Epicurious Recipes & Shopping List installed. Like its namesake Website, Epicurious is an iPad- and iPhone-friendly compendium of recipes for food and drink from a variety of credible culinary sources (including Bon Appetit and Gourmet magazines). You can search by ingredient, cuisine, course, and more. When you've selected your dishes, the app will compile your shopping list. The recipe formatting could be better, and some of the app's interface elements are non-standard. But it's better than any cookbook at turning the motley collection of ingredients you have in your pantry into something you'd really like to eat.—Dan Miller
IMDB Movies & TV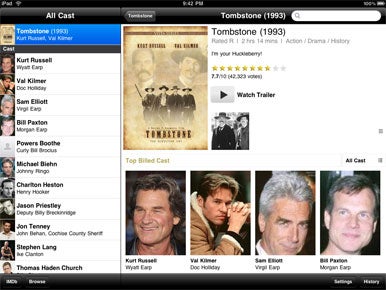 All you want to do is watch Tombstone, easily the western featuring the best assemblage of facial hair ever filmed. But your viewing companions won't stop nattering on about how they could swear they've seen the actor playing Ike Clanton in some other movie at some point in their lives. Which is when you whip out your iPad, fire up the free IMDB Movies & TV, and—with a few taps into this hybrid iPad-iPhone app, you can tell everyone that, yes, the guy playing Ike Clanton is also the guy from Avatar as well as the guy from the movie based on Red Dragon. (No, not the crummy version with Anthony Hopkins—the good version with Brian Cox.) IMDB's multiple pane interface lets you do many more things—look up TV schedules, watch trailers, and access movie reviews—but being able to summon up info about whatever movie you're watching from the comfort of your couch is worth the price of admission.—Philip Michaels
Kayak Flights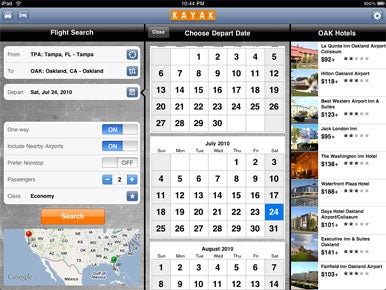 For a glimpse at what a difference a multi-pane interface makes, download Kayak Flights ( ) from the App Store. One pane of Kayak.com's free mobile flight finder lets you look up flights, setting your destination, travel dates, and travel preferences. Another panel keeps track of your search history, so you can check to see if airfares have fallen since your last search, while a third pane informs you of popular searches from your point of departure. If you're holding the iPad horizontally, a fourth pane gives a sampling of hotel prices at your final destination. You can filter search results by airline, airport, times, prices, and stops. Kayak's iPad app not only improves upon the tap-to-drill-down approach taken by so many iPhone apps, its data-packed interface even tops what you get from browser-based airfare searches.—Philip Michaels
Kindle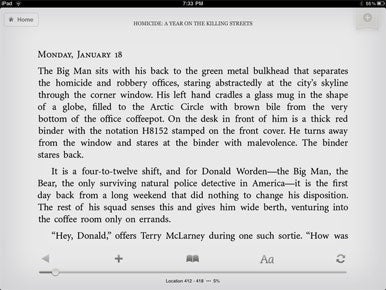 There's a battle brewing between e-book readers, as Apple's iBooks and Amazon's Kindle ( ) slug it out for the hearts and minds of iPad users. While iBooks has plenty to recommend it—it's visually appealing, provides an in-app dictionary, and supports ePub books in addition to books from the iBookStore—the vote here goes to Kindle. While the free Kindle handles only books you purchase from Amazon, it also lets you jot onscreen notes while reading and lets you choose between standard, sepia, and nighttime (grey text on black) page displays. And, of course, Amazon offers far, far more books right now than Apple's iBookStore—which for many people may end up being the deciding factor.—Dan Frakes
Netflix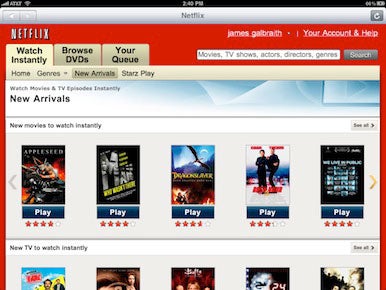 If you've got a Netflix unlimited membership and haven't downloaded the free Netflix app for the iPad, head on over to the App Store this instant. With Netflix installed on your iPad, you get access to the thousands of movies and TV shows available from the video rental service's Watch Instantly service. The Netflix iPad app lets you manage your account, report problems, and update your DVD and Instant queues. It supports streaming over both Wi-Fi and 3G connections, and the video quality is pretty impressive over the former. (It's less impressive over 3G due to bandwidth issues.) Whether at home or on the road, Netflix ensures that entertainment is never more than a tap or two away. (A recent update to the app delivers video output support, letting you view movies from your iPad on much larger displays at resolutions up to 1024 by 768.)—James Galbraith
NPR for iPad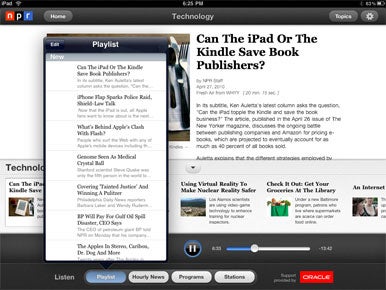 Who said Internet audio killed radio? NPR for iPad proves that networks can embrace the Internet to make their radio and Web offerings even more compelling. Like NPR's iPhone app, the free iPad version lets you browse NPR news, shows, and podcasts; you can read or listen immediately, or save audio programs to a playlist you can listen to at any time. The app also lets you listen to streaming audio of many NPR-affiliate stations across the country. But the iPad app adds emphases on the multimedia-friendly areas of NPR's coverage—Arts & Life and Music topics—and takes advantage of the iPad's larger screen to make it easier to find content and more enjoyable to consume it. It's public radio on-demand, and it makes NPR appealing even to the NPR-agnostic among us.—Dan Frakes
NYT Editors' Choice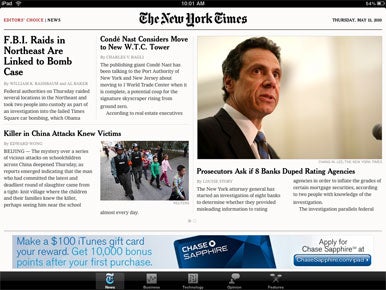 Despite its dowdy reputation, the New York Times has actually been one of the leaders in taking news digital. The newspaper's Website has for years featured some of the best interactive news tools on the Web. And the NYT Editors' Choice iPad app is good enough that Steve Jobs highlighted it at the tablet's big debut. As the name implies, this isn't the entire New York Times: instead, the free app from The New York Times Company offers a selection of the day's news, business, technology, opinion, and feature stories. But (as they used to say about the Wall Street Journal's front page) even if you read only these stories, you'll still be better informed than 90 percent of your fellow citizens. Sure, the ads can occasionally be a pain. But in wrapping the Times' definitive reporting in a sleek, easy-to-use interface, NYT Editors' Choice becomes one of the few must-have news apps.—Dan Miller
Twitterrific for iPad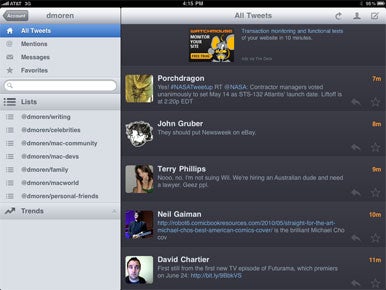 One of the premiere iPhone Twitter clients has made the leap to the iPad. The Iconfactory's Twitterrific for iPad is among the cream of the crop on Apple's latest device, thanks to a split-pane landscape view that makes it easy to browse mentions, direct messages, favorites, lists, trends, and more. Contextual pop-ups let you view a threaded conversation, embedded image, or user profile without losing your place in your timeline, and there's a built-in Web browser for checking out those links your friends are always posting. Tweets are handily color-coded to show you which are your own, which mention you, and which are direct messages. By default, the app is ad-supported, but you can upgrade to the premium version, which supports multiple accounts, via a $5 in-app purchase.—Dan Moren