Can one live on streaming television alone? With the multitude of video-streaming services now available, that's an increasingly popular question. If you're a die-hard fan of the Ultimate Fighting Championship, the answer may now be "yes": Roku and UFC have struck a deal to bring all major UFC events to the streaming-video player for years to come.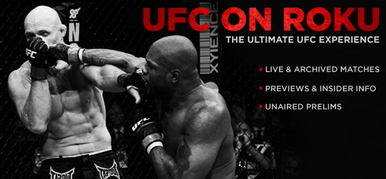 Roku first made its way into streaming video with the introduction of its Netflix Player set-top box in 2008. Since then it's expanded both its hardware and programming line-ups to offer devices with new features such as high-definition, and content from premium providers such as Major League Baseball.
The addition of UFC is is just one more notch in its belt. The centerpiece of the deal is streaming live pay-per-view events in HD, but the UFC channel will also offer an archive of classic fights, training and countdown videos, un-aired prelims from the live shows, special event shows, and more. While some of the content is free, for much of it you'll either need to sign up for a UFC Vault subscription ($60 for six months) or browse the à la carte list of individual fights for $2 each. Pay-per-view fights, as well as on-demand archives of recent events, are $45.
Roku hasn't forgotten its roots, either: it's also prepping a new Netflix interface for the service, allowing users to browse, search, and watch videos from the entire Netflix streaming catalog in a simple and friendly fashion. You can even add movies and TV shows to your Netflix Instant Queue to watch later.
The UFC deal kicks off on May 29 with a bout between UFC heavyweight champions Rampage Jackson and Rashad Evans; the channel should be available on Monday. The new Netflix interface will roll out for Roku customers in June. Roku's player hardware starts at $80 and requires an Internet connection of at least 2Mbps for UFC videos; 3Mbps is suggested.