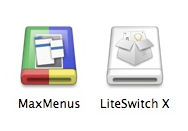 We've covered hundreds of inexpensive Mac programs over in the Mac Gems department, but two that continue to generate reader interest, despite long ago being discontinued—or so we thought—are Proteron's MaxMenus and LiteSwitch X.
I've been a big fan of LiteSwitch's much-improved—though subtly so—Command+Tab application switcher, and when I upgraded to Snow Leopard, I was mighty relieved to find that the most-recent update to LiteSwitch X, from mid-2006, still worked. Fans of MaxMenus, on the other hand, weren't so lucky: The latest version of this utility for creating custom menus in the corners of your Mac's screen didn't work properly in Snow Leopard. I regularly receive e-mail from Macworld readers asking for a suitable substitute.
Until recently, those looking for updates from Proteron found a Web site—if the site was reachable at all—that hadn't been updated in years. But a little over a month ago, Proteron quietly updated the site—so quietly that I completely missed the news, as did most everyone else I've talked to. But the biggest news is that the company is offering public betas of Snow Leopard-compatible versions of MaxMenus and LiteSwitch.
According to the Read Me document included with the beta of MaxMenus, version 1.6 (currently at 1.6b1) includes these changes:
SnowLeopard (Mac OS X 10.6) compatibility: fixed the recents menus, fixed the ability to grab items from menus (press Command-G with the mouse held over a menu item)
Added Downloads folder to choice list in prefpane and to new default settings plist
Other minor fixes and performance improvements
Similarly, the Read Me for LiteSwitch X 2.7 (currently at 2.7b1) lists these changes:
The preference pane loads in 64-bit on 10.6
Pressing command-escape while using LiteSwitch hides the switcher and no longer triggers a system shortcut that uses the same key combo (OS X default is to show Front Row)
App selection by holding down keys now stops at the end of the list
Added option to switcher window's contextual menu to enable/disable display of background apps
Up and down arrow keys are now an alternate way to show application contextual menus
For now, only the home page of the Proteron site is functioning—the About, Legal, Support, and Contact pages aren't yet live. The company's online store is also not yet up, although the home page provides license codes for using the software during the beta period. Once the store is available, MaxMenus 1.6 will be available for purchase for $30, with LiteSwitch 2.7 available for $15. You will also be able to purchase both utilities as a bundle for $35.
I've sent Proteron a request for more information about the updates and the company's future.
(Thanks to Macworld reader Clint Bradford for the tip.)