CameraKit by Tetsuya Chiba is a $2 iPhone camera app that aims to recreate some of the looks that were possible with an analog film camera.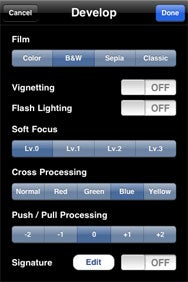 CameraKit sports a pretty straightforward interface. You can opt to have the app launch directly into your camera roll, allowing you to choose an existing photo, or you can launch directly into the camera itself, which lets you immediately take a photo. In either case, once you have a photo on the screen that you'd like to edit, you tap the Develop button along the bottom menu bar. As soon as that's pressed, the Develop panel slides up, allowing you to select the options that will be applied to the image as it's "developed."
Those Develop options include the ability to select the film type (color, black-and-white, sepia, or classic), whether to add vignetting or a simulated flash, and the amount of soft focus you want applied. You can also add a cross-processed look or apply a simulated push or pull processing look.
After you select the combination of effects you'd like to add, tap the Done button. The photo begins to "develop"—you don't see this happening—and CameraKit presents you with the image sporting the results of your choices. If you like what you see, you tap the save button—the image is added to your camera roll. To make changes, just tap Develop again, and adjust your options accordingly.
There are a lot of mobile camera apps that simulate film photography techniques on the iPhone. While CameraKit allows a decent level of customization in its development settings, I was never especially pleased with the results it produced. The app's interface could also use some improvement to make your selections more clear.
If you like to try out a lot of camera apps and spend time seeing what they can do, give Camerakit a shot—it's possible to get some good results. But if you're just looking for an app that gives you the result you were hoping without a lot of trial and error, you may want to consider other options, including CameraBag or Mill Colour.
[Macworld Contributor Beau Colburn lives in Boston and posts iPhone photos on his site Snap different.]