It might not relieve all the horrors of air travel these days, but a new inflight entertainment system based on the iPad could help you wile away a few hours as you cross continents. The bluebox Ai, from Bluebox Avionics, will replace traditional seatback screens to deliver audio and video content as well as games and e-books. Devices on airlines that provide inflight Wi-Fi would be able to download apps, too.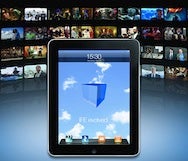 Bluebox is a British inflight entertainment services company, and it has previously provided hardware and software for viewing content onboard aircraft. Bluebox says it will deliver the iPad system in July, but there's no word yet on which airlines will adopt it. (The company says it's struck a deal with one airline, but it won't name names.) And who knows how much the airlines will charge for users in good old coach?
From the airlines' perspective, an iPad entertainment system might be a good thing: no more boxes getting dinged under the seat, and no passengers complaining about balky screens. Any malfunctioning iPad can just be swapped out. Bluebox also says the new system will come equipped with security that allows the iPad to be used even during takeoff and landing, when other electronic devices have to be shut off.
The airlines can also install their own apps on the iPads, opening up all kinds of possibilities. Maybe you'll be able to order a drink from your seat without having to press the flight attendant's ringer.
[via Engadget]